/ 8 Foot Caroni Finishing Mower Dissapointment......
#1

Joined

Aug 11, 2013
Messages

754
Location
Tractor

Kubota B2650 / Kubota L6060 / Kubota ZD2300
I have had my eight foot Caroni Finishing mower for 3 years now and treat it exceptionally well. The 7 acres I use it on are smooth and manicured like a golf course. (Picture Below) Have about 125 hours on the unit so far, rinsed off after every use, stored inside and bearings greased every 3 hours.
Two years back with about 50 hours on the unit I had to replace two wheels where the rubber split and peeled off. Last week a bearing on one of the idler pulleys froze and snapped the pulley off the shaft. When I took the covers off I found the other idler pulley on the other side would not spin smoothly by hand and was rough when spinning by hand. I have just today replaced the idler pulleys at $85 each (ouch) and decided to replace the 2- 119 inch belts also. I am in a quandry over why the manufacturer has a grease fitting on each of the 5 blade spindles but no grease fittings on the two idler pulleys? They spin just as fast as the greased pulleys and have the same amount of belt tension.....so why no grease fittings? Do any of you that have other brands of finishing mowers that have grease fittings wherever appropriate? I am Dissapointment that I may have to replace the idler pulleys every 125 hours as a regular routine....
PS- Anyone ever used a "grease needle" on a sealed bearing?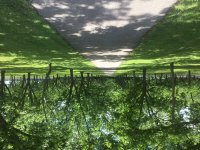 Last edited: