/ 8 Foot Caroni Finishing Mower Dissapointment......
#41
Joined

Aug 11, 2013
Messages

754
Location
Tractor

Kubota B2650 / Kubota L6060 / Kubota ZD2300
Thinking the same thing. My ZTR manual states not to wash down the deck but to use a blower to clean off debris.

Could moisture build up under the covers?
Anything is possible but as I stated above there are 1/2 inch lips welded to the deck that the covers fit over and bolted down. See picture below. Also, these are sealed bearings and sit 3 inches above the deck with the covers over them. One would have to completely sink the mower in water a foot deep to get water to the bearings and they are the sealed type.
Since I installed the new bearings and belts last weekend I have loosened the bolt type adjustment on the belts as far as it will go so I know the belts are not too tight. A mower this large should have spring loaded idler pulleys but it only has a static type adjustment. Will also sparingly add grease past the seals before I use it next time and see what happens in the long run......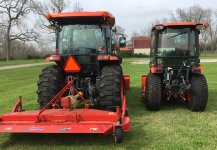 Last edited: