Joined

Sep 12, 2011
Messages

46
Behold, the long sought Kubota Mid-PTO Spline Adapter: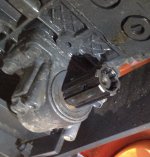 Lot of people have looked for these and come up empty, so I figured a thread documenting them once and for all would help. This is a "TISCO 355", 31/32"-10 to 1.375"-6 spline adapter: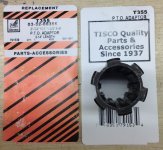 They don't appear to be manufactured anymore, and they aren't easy to find, but if you dig around on the internet they are out there, from $25-$40.
I've read claims that the Kubota splines are 25mm-10, but this 31/32" adapter would measure out to be 24.6mm, and it fits, so I'm now leaning towards the splines really are 31/32". They appear to have been used on tractors from ages past.
Speaking of which, they are a tight fit on the tractor. I had to lightly tap this one on, and I suspect it would not come off easily, possibly requiring a puller. Fine for me, less so if you want to change back to a mower a lot.
Anyhow, the path to making this mid-PTO actually useful, is now a little clearer.