/ A Really Useful "Branch Hacking" Mowing Aid For $11
#1
I took a chance on the Harbor Freight 18" Machete With Serrated Blade (SKU 62682 or 62683) at $5.99 for something to keep on the tractor to deal with intruding tree branches while I'm mowing rather than making a separate project out of trimming them. The serrated blade on the back side is freaking sharp and works very well, but the regular machete blade is dull to the point of being useless when you get it. It does sharpen up very nicely though, and the tool works perfectly for the intended purpose. Unfortunately, once you sharpen it, it goes through the supplied sheath like butter.
I needed a way to carry the machete on the machines, and just before I was about to go to the local saddle smith to get one made from leather, I looked over and spotted another Harbor Freight purchase that was sitting on my toolbox, an 18" magnetic tool holder (SKU 60433 or 61199 or 62178) that I had bought for $4.99.
SHAZAM! (I've never typed or said that before, but it applies here.) Here are a couple of pics.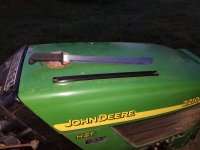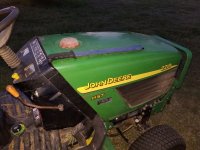 The magnet holds the blade
very
securely, there is zero chance of it falling off without something substantial hitting it. I did not bother with a guard because we have no kids here, but I might install one anyway so the horses can't accidentally contact it. A PVC U-channel trapped between the hood and the magnet would work nicely. This worked out so well I'm going to install one on all of my tractors.