Joined

May 26, 2003
Messages

22,882
Location
Tractor

Several, all used and abused.
Kami, our little girl at only 23 months old, and only 82 pounds, was just listed as making the list for Top 20 Akita's in the country at number 14 for Breed, and number 9 for All Breed. National breed organizations are a little different then the regular AKC in that it's breed specific, and points are figured out from June to May. It's an invite only, formal event with black tie and ball room gowns required. It's held somewhere different every year, and this year it's in Boston this October. It will last a full week, with shows every day, along with awards ceremonies and banquets. My wife will go with our professional handler. I'll stay home and take care of the farm.
Also, as of the end of May, Kami was ranked the number 11 Akita with AKC for the year. There is only one female ahead of her, and she is 5 years old. Kami will be 2 years old next week. She is competing against males that weigh from 110 to 130 pounds that are 3 to 7 years old, and have been competing longer then she has been alive. We joke about her being the giant killer because she wins Best of Breed so often against them. She is currently a Grand Champion with 70 points towards the 100 needed for her Bronze level. We're hopeful that she has them before October.
This is a big deal for us, and especially for Kami since she is so young, and female. Another thing to know is that she goes into heat twice a year and is unable to compete for 2 months each time this happens because she blows her coat and it has to come back in to be able to compete against the males. To be ranked as high as she is, and having to miss a third of the year is amazing. Of the top 20, only 3 are female.
Here are the lists announcing the Top 20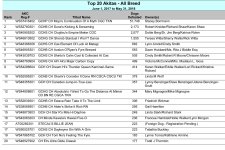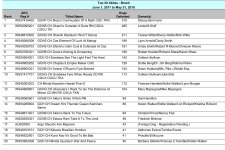 Here is the link to her current number 11 standing with AKC
New-Statistics | Canine Chronicle
This is her Group 3 placement from two weeks ago in Monroe LA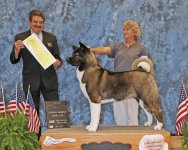 Here is what she did in just the month of May. The gold and purple ones are for Best of Breed. There are 9 of them!!!!!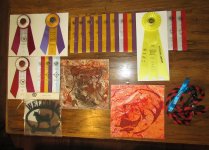 Couple pictures that I took of Kami last weekend. Her nickname is the Diva!!!