Joined

May 26, 2003
Messages

22,939
Location
Tractor

Several, all used and abused.
There was a discussion on here awhile ago about mower blades and a few comments that it was hard to understand how quickly Bahia grass wears out mower blades. I go through 3 sets of blades a year on my Scag zero turn mower.
I changed my blades yesterday. This is when I scrape my deck and do my maintenance.
This new set will last the rest of the year, and then into Spring. Then I'll buy another 3 pack with a total of 9 blades from
Louisville Tractor | Scag Mower | Ferris Mower | Bobcat Turf | STIHL | ECHO | Shindaiwa | | Zero-Turn Mower Parts | Lawn Mower Parts | Tractor Parts
. They changed their name to Andersons, but the website is still the original name.
The picture speaks for itself. This is about 2 months of mowing about once a week, for a couple of hours.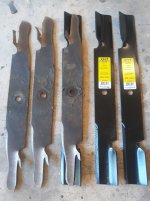 I've tried Gator blades, high lift blades and Bahia blades. Nothing cuts as nice, or lasts as long as the factory Scag blades.
My soil is red clay. I've heard that sand will do this, but I do not have any sand on my land.