Joined

Jun 15, 2020
Messages

69
Location
Tractor

Massey 1735M / Ford 2N
Did I just have some bad luck? Or do these things break like this on a regular basis? Another user mentioned seeing a similar break, but wasn't sure if it was a Massey.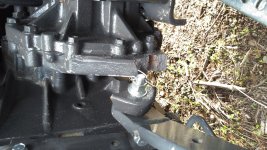 This broke pulling the same box blade my Ford 2N has been pulling for years. I'm new here and have been lurking and reading up on what you guys thought of various tractors for a while. Finally got the Massey and posted how happy I was and then very next time I use the tractor this happened. I had to leave the the box blade on the far side of the property and go get my old Ford 2N to pick the box blade up and bring it home. Very sad about all this. We spent a lot of money on this tractor. My wife let me get this tractor to replace the old Ford because she wants to turn our property into a real farm and start raising yaks and we needed a better tractor than the old Ford. My wife was about to cry when she saw what happened.
I know, I'm whining like a little bitch, sorry. I'll shut up now.
Last edited: