/ bucket tooth bar: EA wicked root ("continuous tooth") vs standard tooth design
#1
Joined

Sep 15, 2021
Messages

214
Location
Tractor

kioti ck2610
will be using a 3pt blade to re-grade about a quarter acre area; its currently gently sloped, i needs to be ~level: some fill at the bottom, taking off about 8inches at top. Final cover will be mostly garden, with a driveway/turnaround on one side.
We have ~easy soil (or i would not be attempting this with my 5000# small tractor (ck2610 with filled tires). Even being rock free, it's still has a bit of clay and with my weight I can't dig much, so it will be slow. i am thinking about adding teeth to my bucket, to help break up amy harder slops before spreading/draging downhill with the blade.
I'm looking at two tooth designs: the classic individual / spaced tooth
https://www.everythingattachments.c...id-Steer-Bolt-on-Tooth-Bars-p/wrl-tb40-84.htm
, or EA's in-house AR-steel "continuous" version
https://www.everythingattachments.com/EA-Wicked-Tooth-Bar-for-Tractor-Buckets-p/eta-wtb.htm
Which has a much larger frontal area to distribute my available force across.
Obviously the classic design will have more pressure on each tooth, presumably equating to more digging capacity in theory. But EA seems to know what they are doing - would this higher pressure at the tooth's business end help me as a practical matter? EA's design have teeth produding less far "down" as well - but this does make it flatter, which presumably makes a smoother / less disturbed final surface (helpful for the driveway part that I have to level/compact well.)
Anyone used both, especially on a small tractor?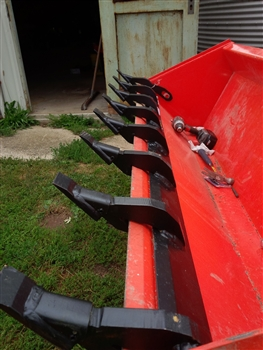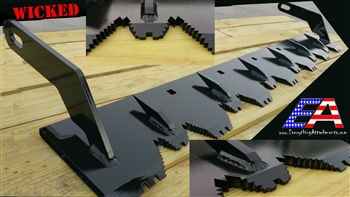 Last edited: