Joined

May 26, 2003
Messages

22,875
Location
Tractor

Several, all used and abused.
I've been wanting to do this for awhile, but struggled making the decision on what to buy. Too many options and opinions that overwhelmed me. Then last week our Dish stopped working. They had to have somebody here for them to fix it, which I understand, but with our schedules, that meant waiting a week until that happened. My wife wasn't happy, so I went to Home Depot, Lowes and Best Buy to see what they had. Just based on the boxes on the shelf, I went with the Clearstream 4Max HDTV Antenna with mount from Lowes for $149.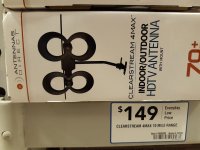 I also bought 50 feet of new cable.
I ran the new cable from the back of my TV out through my garage and connected the antenna temporarily outside on my truck to see if it worked. I didn't have it facing South like I wanted it to, but thought this would be OK to see if it worked. According to
Antennas Direct | TV Transmitter Locator and Mapping Tool
I have 13 channels out there. After connecting everything, I ran a search through my TV to find them, and it worked great. We got all 13 channels, and the picture was amazing!!!
First problem that we discovered is that my surround sound doesn't work. I'm still trying to figure that out. The sound from the TV is OK, so it's not a big deal, it's just something that I'll have to figure out eventually. ROKU and the DVD player are now plugged into the back of the TV instead of my receiver.
Big surprise is that we now only use the remote for the TV to do everything while watching TV. When using the ROKU, we use that remote for everything except volume. We still have to use two remotes when watching something on the ROKU.
There are 4 towers in my area, one for each network. Each network has other stations that it broadcasts from. For example, NBC is 56.1 then there are three other channels that are 56.2 and 56.3 and 56.4 It's real easy to figure out.
So then I decided to mount the antenna permanently to the bracket that my Dish satellite was using. It was a simple swap from one to the other. This put it at the top of my second story. No trees in the way and a clear view facing South. I could only get 2 channels from that location. Depending on what direction I pointed it, and I tried 8 different angles, it was always a different combination of two channels. I have no idea why this happened. It makes no sense to me, but it is what it is, so I took it down and mounted it above my garage door. This has it facing kind of SSW, which is one of my attempts from the other location. Due to the wall of the house being where it is, I have to angle the antenna down slightly and it's cock eyed instead of level like it was on the second story. And it works perfectly in that spot.
If I had not accidentally tested it in a location that I didn't think was ideal, I might never have gotten all 13 channels right off the top like I did, and I probably would have returned the antenna because in my opinion, it didn't work.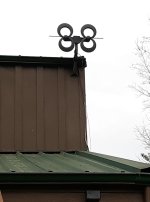 While running the cable through my trusses over my garage, I attempted to connect the new cable to the old cable from the Dish that went through the wall and outside to where it comes back into the house behind the TV. I figured it would be the easy way to do it, but I lost the quality of my picture from that short length of old cable. That might have been my problem with the Dish? I drilled a new hole through the wall and ran the cable all the way to my TV, which gave me a clear picture.
It's been 5 days now since I started all this and today I just finished it up by hiding the cable up in the trusses. We are very pleased with the result and looking forward to saving $120 a month for Dish.