/ DIY FEL forks are surprisingly good
#1
I got the idea to build DIY forks from someone online (sorry to not give proper credit but I don't remember where I saw it, I don't think it was TBN). I have been surprised just how handy and sturdy they are. Obviously not the answer for heavy duty use, pallets, etc., but I believe they are stout enough to match my small tractor's lift capacity.
A few pieces of scrap 2x4 and a couple of bolts and nuts. Literally a 10-minute job!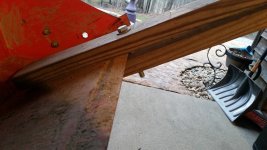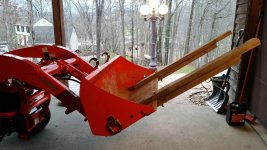 Doesn't seem to stress the bucket, but this 200lb mower deck is probably the heaviest thing I've lifted.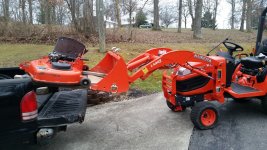 My 48" bucket is pretty small so these forks have been handy a number of times with long, bulky or awkward objects. At first I tightened the bolts each time I used them but then got comfortable with leaving them just loose enough to slip on and off easily. Easy on and off, as well as to narrow or widen the forks.
I'll replace the bolts with shorter ones (just used some I had around). Won't work for serious farm or commercial needs, but pretty nice for home and general use.