Joined

May 26, 2003
Messages

22,939
Location
Tractor

Several, all used and abused.
I've removed almost every wire on my tractor and I have it running better then I can ever remember. Best of all, I can now start it up easily every time I want to use it.
One of the downfalls to my drastic actions is that I no longer have a working water temperature gauge. It worked before I cut out all those wires, so I'm sure it's just a matter of figuring out what I need to run to make it work again.
On the back of by dash I have 3 machine screws that connect to the gauge. The letter T is in the middle as you can see in the picture.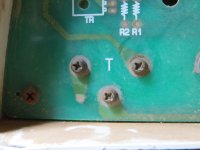 I know that I need ground, power from the key and a line to the sensor.
Does this make sense? The screw to the left does not appear to go anywhere, so that's my line to the sensor. Thhe scrrew on ththe bottom goes to the fuel gauge screw and then to the number 1 slot on a harness. I'm thinkinng thats power from the key. The screw to the right goes to most of my idiot lights. I'm thinking that must be ground since the source for those idiot lights would have to be power?
Do I have that right or am I backwards?