Joined

Apr 21, 2009
Messages

197
I haven't made anything in awhile and the itch was returning, so I just had to scratch. Hmmm, what to make? I look around at all the scrap junk, ummm , I mean treasures that have seemed to multiply over time. So, I sit down in the shop and pop open a beer, I do my best thinking while relaxing with nothing more to worry about than getting another when the one I have gets empty. So, after the "magic" number of 12oz liquid brain stimulators, :checkmark: I get to work.
I had to change out a 12 knife gate valve manual handle with a linear pneumatic actuator at work due to the lead time of the vendor supplying the valve already assembled as a automated unit. This allowed me to acquire these parts free of charge.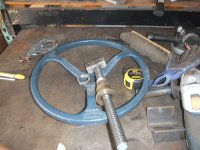 I had one of these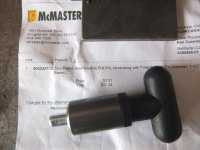 left over from making this.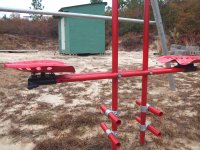 So, along with some pipe and plate that I had, this was the end result.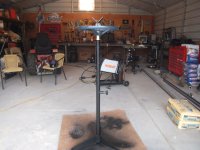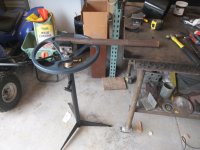 Now that I have a adjustable pipe support to use in conjunction with my welding table, I need put this thing to use. I was thinking about making another one of these to sell, though simplified with straight handles and most likely one angle support bar on each side to make it faster to build.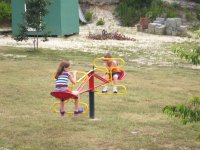 So........How much would you think a reasonable person would be willing to pay something like this? Keep in mind that it uses metal thrust bearings and there will be no plastic parts, and of course you have to factor in the parts cost and my time. (which takes away from the previously mentioned quality time sucking down beer while dreaming up new things to fabri-cobble from my treasures.
If you wish to make something like this pipe support for yourself then you all you need is the some sch 40 1 and 1 1/4 pipe, plus the other items that I showed at the start of this post. The pull pin can be bought from McMaster, and can probably be found on ebay. I did use some .020 thick abs plastic sheet material to line the inside of the 11/4 pipe, this takes out almost all of the play between the two pc of pipe, but not necessary. You can also get acme rod and nuts from McMaster, because I know most will not have old valve parts laying around. I did put holes every two inches in the inner pipe from gross adjustment. Almost forgot to add that the acme rod should be 1 inch to fit the 1 inch pipe with very little slop.
Last edited: