Joined

May 12, 2004
Messages

9,619
Location
Tractor

Kubota B2910, Cub Cadet Pro Z 154S, Simplicity 18 CFC, Cub Cadet 782
Apparently forgot to hit the "Post Reply" button this afternoon ...
69F and sunny @ 13:00, heading up to around 73F for the high.
Made it up to shop last night and worked for several hours cleaning up and organizing, still a long, long ways to go though. What a mess ...
At least was able to get a couple of benches partially cleared off and wiped down.
Did not get to the mower blades for the Cub.
Woman has torn into her chest of drawers and has gotten it emptied out, long overdue I'm sure.
Mower lift has made it from being picked up to Wichita to Kansas City, UPS now says will be delivered by tomorrow rather than this coming Tuesday. Yippee !
Agenda for today:
Mix up another 2 gallons of glyphosate and refill sprayer. Maybe do some spraying if winds are light enough. (didn't happen, was pretty windy)
Get mowing done down here around the house. (Got that done + most of compost wood lot)
Somebody pulled Rocky off the compost pile, buzzards (and flies) are circling.
Get the last 3 bags of pelletized lime applied to the lawn. (Also done + bags and shrinkwrap taken up to can at road + pallet removed from van)
Fix live trap. That last big 'coon twisted up the rod that trips the trap pretty bad. (Got twisted rod extracted from trap, will take it with me up to the shop here in a little bit)
Maybe see if any plants need watered. (All plants in pots around back watered)
Hope everyone is having a Good Friday ...
Update as of 21:15: 62F and "Fair" headed down to 46F overnight. Calling for a high of 79F tomorrow.
Water Buffalo refilled.
Woman went out clothes shopping with nephew's wife in preparation for Her trip out of state, was gone until evening. She did manage to get by Home Depot for a gallon of that 30% vinegar and Harbor Freight for the smaller 1 1/4 gallon pump sprayer which will be easier for Her to carry around. Will need to mix up a batch of juice for her tomorrow.
She brought me back an iced Butter Pecan from Dunkin' ... and then grilled up some Hebrew Nationals + Bush's Baked Beans.
Neighbor came over and dropped off some plastic fencing while She was doing that.
Got two frame sections of 6' long industrial shelving set up around back, still have a 3rd one to do. Will use to set plants/seeds on until they get planted in the ground.
Some critter was nipping off the tops of a couple of squash plants that were setting on the ground ...
... will deploy chipmunk trap tomorrow.
Mower lift in Columbus, OH as of 17:00.
Bunch of sticks picked up off the lawn.
Couple of firewood pallets moved up at the shop.
Did some online banking.
Got notification that plant order from Burgess has shipped ... very fast compared to last year ...
Heading up to the shop to continue on with that project, maybe work on mower blades.
Hope everyone had a great Friday ...
(Update coming)
Some of today's blooms.
Around back: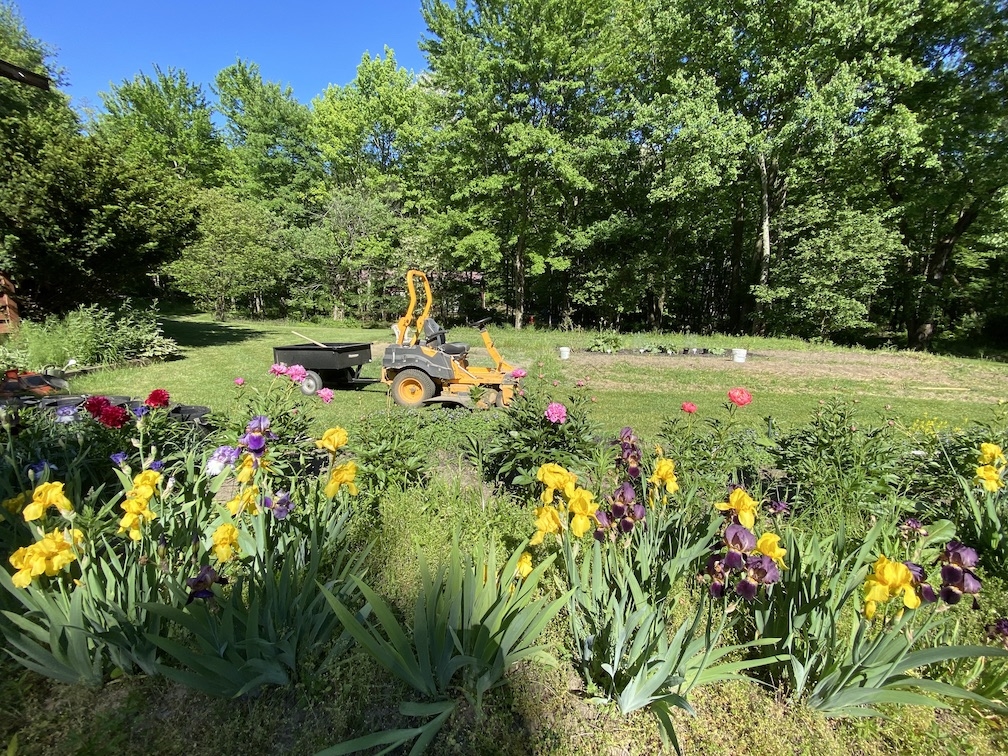 ​
Mom's peonies around front:
Think we brought those out from the house in Firestone Park, probably around '69 or '70.
Some close ups: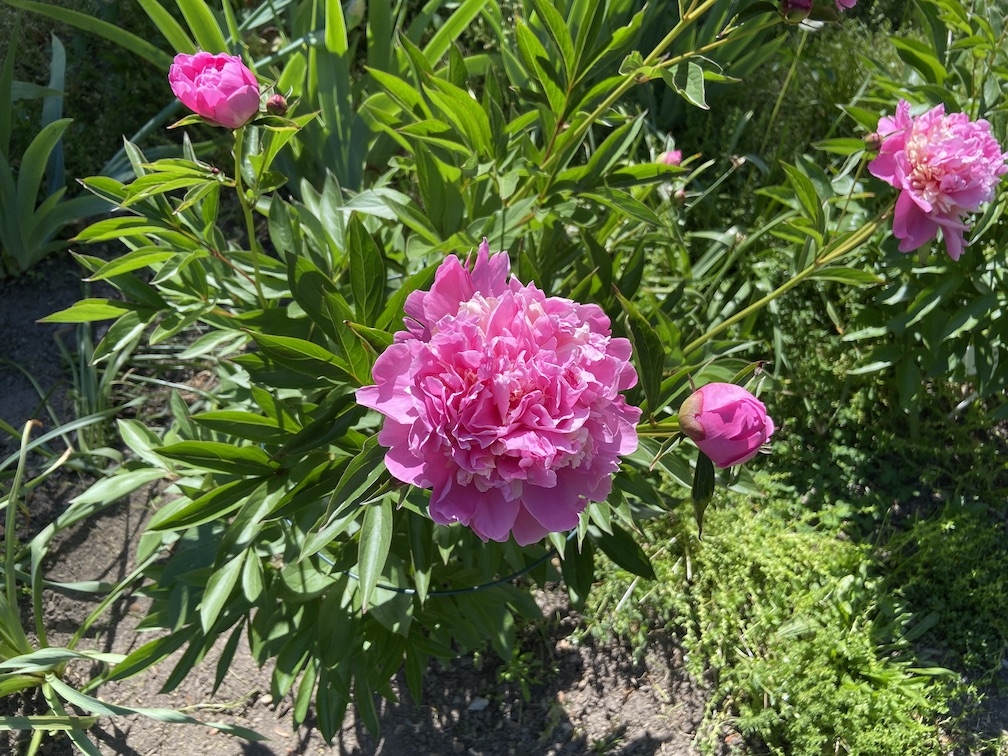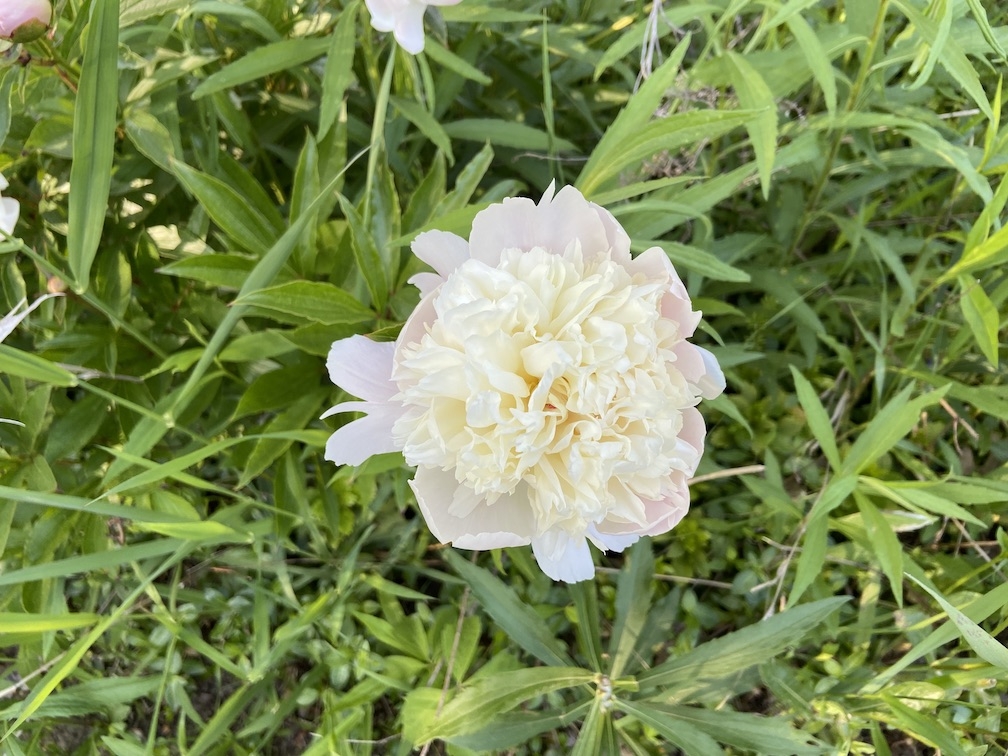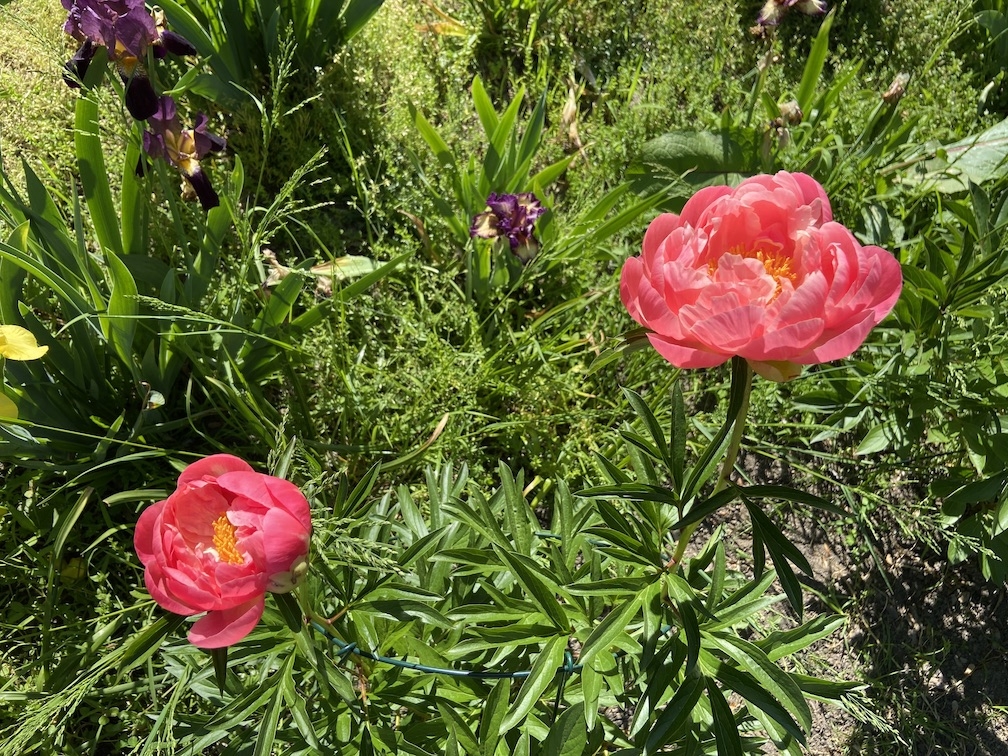 Last edited: