Joined

Mar 5, 2019
Messages

749
Location
Tractor

RK24H, Gravely 8123
[**DISCLAIMER**]
I do not condone or suggest anyone lift more than the rated lift capacity stated by the manufacturer.
I will not be held responsible for any equipment damage, injuries, or deaths that may occur from operating outside of the manufacturer's recommendations.
The following are simply data that I collected for my own knowledge, that I also decided to share with tractor community.
Now that that's out of the way...
I was curious what the ACTUAL lift capacity of my new RK24 is, with the L75 front end loader with SSQA and 50" bucket installed.
The literature states 947 lb at full lift height (75"). But we all know that is with a safety factor and wiggle room figured in.
It was also unclear as to whether that number was with or without the SSQA and bucket installed.
I purchased a "crane scale" from Amazon that can measure up to 2000 lb. It has a handy feature where you can set it to hold the highest reading.
https://smile.amazon.com/gp/product/B00ZE7492E/ref=ppx_yo_dt_b_asin_title_o03_s03?ie=UTF8&psc=1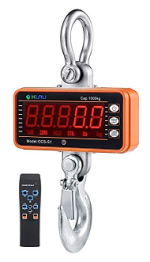 (click to enlarge)
I welded a shackle to a plate and bolted it to a 48" tree stump with 5/8" x 8" lags, as an anchor point.
I attached the scale to the anchor, and then to the bucket with a 5/16" chain.
Due to there being a minimum height needed to fit all that in, I don't have any data points right near the ground, but one can assume they'd have even higher forces.
The tractor was on level ground, even with the top of the stump, and all tests were done with the chain vertical.
I tested in 6" increments, from 20" to 74", as measured from the top of the stump (ground level) to the center of the pivot pin.
I took two measurements at each height. One at idle (~1350 engine RPM) and one at PTO RPM (~3000 engine RPM).
For each test, I applied slow, even pressure against the scale to avoid spikes, and I held the joystick for several seconds until the reading stopped climbing.
Between each test I relieved the pressure on the chain, adjusted the chain length if necessary, zeroed the scale, adjusted the RPM if necessary, and ran the next test.
Here's a picture of my setup.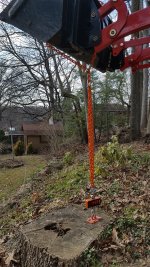 (click to enlarge)
Remember, these numbers are with the bucket and SSQA installed, so these data are a close representation of what material can actually be lifted with the bucket.
Let's just say I was pleasantly surprised with the results. :dance1:
This thing is a beast for it's size.
Here are my findings. Enjoy!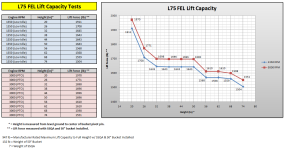 (click to enlarge)
EDIT: See post 47 for updated/corrected findings (or the chart below):
https://www.tractorbynet.com/forums...-capacities-rk24-post5412074.html#post5412074
Updated/corrected findings: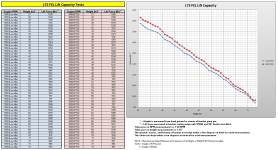 (click to enlarge)
Last edited by a moderator: