/ Homemade headache rack for my truck
#1

Joined

Mar 1, 2015
Messages

3,704
Location
Tractor

Kubota MX4800 with BH-90X hoe; Hustler FastTrack 48; B3300SU (sold); 1969 Case 680B CK (sold)
Not tractor related but I am happy with the result so I thought I'd share. I'm a novice welder/fabricator and this is the biggest thing Ive built from scratch so go easy on me.:drink:
I wanted a headache rack to strap lumber and ladders to for transport in my 6ft bed. I also wanted to limit wind drag a noise at highway speeds. So I designed it such that the to cross bar is LOWER than the cab and the side supports are NARROWER than the cab sides. The rack is tall enough that if I lash a board to it and the closed tailgate the board will clear the roof. But that height meant that the cross bar would obstruct the cab break light (a no-no for state inspection here) so I built it with a dip down in the middle and a 3/8" rod to complete an unbroken plain at the top.
I read a lot about people complaining about wind noise and howling at speed. So to reduce the risk of this further I built the rake out of square tubing cut on the 45deg thinking that this would help with airflow. :confused3:
I got cut-off waste cold rolled mild steel from a local supplier at near scrap price. 2x2" 3/16" for the upper parts and 1.5x3" 1/4" for the bed rails.
I mocked with a sheet of plywood until I was happy with the side profile and rigged some jigs to hold the tubing in the 45deg while cutting and welding. I dont have a welding table so I settled for a well supported sheet of plywood, a just of water, and a fire extinguisher. :duh: Nothing burned down this time.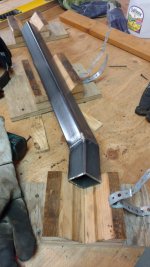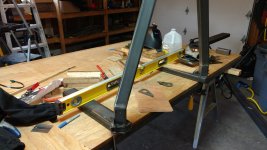 I MIG welded with solid 0.035" wire on 240V with my Everlast welder.
Once I had the sides done I used a laser level and some high school geometry (thank you Mr. Grey but you're still a bastard
) to cut the compound angle bird's mouths for the horizontal cross piece.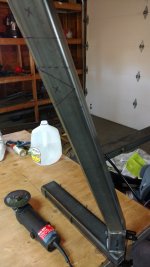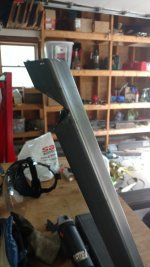 I then fabricated the cross piece.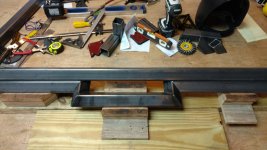 A trial fit on the truck went well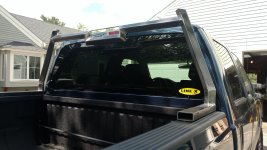 So I drilled counter sunk holes in the "Bed Rails" for long grade 5 bolts witch I welded in place and cut off the head and ground smoothish.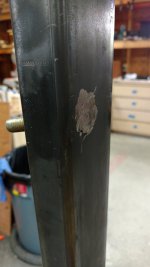 Then I drilled holes in my truck's bed rails, painted the exposed metal, and capped the headache rack's tubing.
Another post to come....