Joined

Dec 1, 2011
Messages

174
Location
Tractor

Kubota Grand L3130
I am wondering if anyone else would be interested in a rear blade / landscape rake combo. They would use the same frame and you could detach one in exchange for the other. I am hoping to get enough good feedback that E.A. might pick it up and make it happen with their current 6 way blade frame.
My thought is there would be a pin you could pull that would allow you to drop the blade or rake, and attach the other. It would sell as a set or you could buy frame and one, then add the other later. This would save room by having one frame for 2 uses and I would think save some money only needing one frame! Why have two almost identical frames when one can work for both.
I have ideas for how to make it quick change but defiantly suspect they would improve on it.
I would take the ( what appears to be) 3" down tube from frame to blade ( in photo below) and make it a little longer. Then make it where an inner sleeve is welded into the 3" tube on the frame side. The blade and landscape rake would have the same 3" tube top. This would make a female end to the frames male end. One pin could be use to change from one to another.
Storage, you could build a 2x4 frame that holds both the rake and blade one in front of the other. The one in the back would be a few inches higher than the one in the front.
You could then back up and lower the blade into one slot and pull back forward and pick up the rake. Would be a simple change process with one pin, easy storage and one frame for 2 implements.
This would still allow for full swing of the frame arm from side to side. It would also allow the blade and rake to function as normal.... side to side and tilt up and down.
Let me know what y'all think! I would love to see this personally!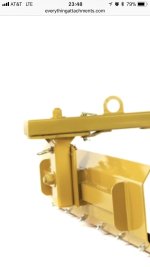 The line is where I would have the quick death pin. The down tube would have to be a little longer than it is now.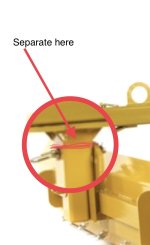 Would add a the female side of tube to the top of the rake where it currently bolts to the frame.