Joined

Sep 9, 2002
Messages

3,462
Location
Tractor

B7100
I use my B7100 a lot in the winter to plow snow. Last year was especially cold and I finally broke down and bought a golf cart enclosure as shown in this thread
http://www.tractorbynet.com/forums/customization/300684-b7100-golf-cart-cab-eclosure.html
But since then, I've been thinking it would be nice to have heat in the cab.
So, I built a heater from from plywood, a new but scrapped automotive heater core, a fan from a RV stove vent and a Bosch electric water pump. Since the B7100 has no water pump, I had to insert a copper 1 1/4" fitting into the upper and lower radiator hoses. In the top hose, I used a coupling and just drilled a hole and soldered an elbow into the hole. The lower hose had more room and I was able to use a reducing T fitting that was 1 1/4" x 1 1/4" x 1/2" . Heater hose that is 5/8" ID just fits nicely over the outside of a 1/2" copper coupling.
To control the pump I wired in a resistor to give two pumping speeds with a SPDP switch. To control the fan speed, I used a PWM rotating control off eBay plus an off switch, as the PWM draws a small current when off.
I also installed ball valve shutoffs in the heater lines so I can shut off the flow if the heater pops a leak.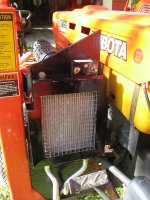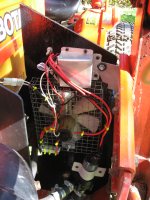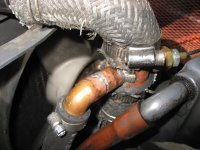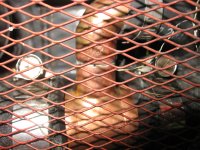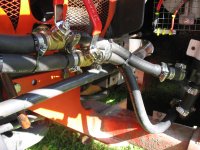 Last edited: