Joined

Apr 18, 2014
Messages

200
Location
Tractor

KIoti DK50S
Several years ago, a friend of mine was selling his (i think the year is) 2004 Kioti DK50C, and my wife wouldn't let me buy it (long story)- but I talked my neighbor into purchasing it. Now he wants to sell it as he is buying a New CAT tracked skidsteer. My neighbors and I share a 1 mile long driveway that we have to plow to keep open (400 inches of snow so far this year). So for the last few years I have been driving this tractor and it drives great with no issues. So he wants to sell it now. He wants $30k for it- but it has a lot of attachments that comes with it. It has 950 hours on it, and my tractor mechanic says it is a great deal. Here's what its got:
4wd w Cab
New chains on all 4 wheels
Gannon Box
Quick attach bucket on front
Articulating plow blade
Bucket
Grapple
Kioti Backhoe with 2 buckets
New Kioti PTO Wood Chipper
New PTO post hole digger with 2 bore sizes
Forks
Tires are in really good condition
The use of his trailer to haul it anywhere I want
The area I live in doesn't have a large population of people who own tractors. There is no farming here and most of the properties are in sub-divisions and they pay plow services to do their plowing. I tried to get a plow service to do ours, but no one is interested. They make much more money working the subdivisons than they would plowing our road. We used to have a plow guy who would do our driveway for $250 a time. If he was doing it this year, our bill would have been $5000 by now. The point being made, is there aren't a lot of used tractors locally, so prices may be higher. I need something with horsepower to keep our road open.
I figure I can do work locally with the tractor to offset the cost. I will most likely use all the implements.
Is the price reasonable? The mechanic said that if the tractor was posted in the paper with all those attachments, it would be gone in one day. And like I said, I have probably 50 hours running the tractor and it runs great. New, that tractor cost $27,500..... Also any known issues with the 2004 model?
Fair deal?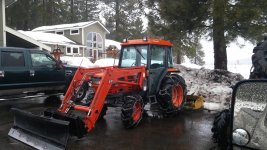 Last edited: