Joined

May 19, 2014
Messages

237
Location
Tractor

2011 Massey Ferguson GC2600 DL100
After viewing several carry-alls on here I starting looking around my barn for scrap material that would be suitable. Some bed frames cut and welded into a bike rack caught my eye. As did the the remaining frame of a manual treadmill my wife wanted, but never used (the plastic coated wood from that makes up the top piece of my router table now). The cross pieces on the bike rack the the front tires rolled between had a few broken welds, so what the heck. Might as well remove them all and use that for the base frame.
Some more pieces to build out the cube shape, two lift pins, and a couple 1/4" sections cut from a steel pipe to reinforce the top link hole were added to the treadmill frame. Top link braces held the handles onto the treadmill. At least it's getting some use now!
I welded some more bracing on today, cleaned up some rough spots, and did 1 coat of spray on bed liner over the whole thing. Forgot to get completed pics before it got dark.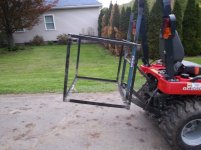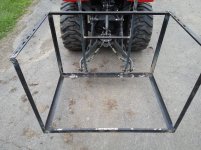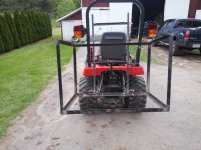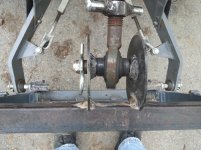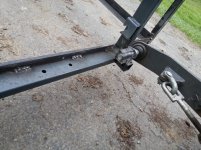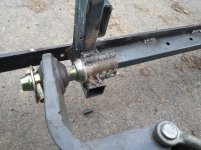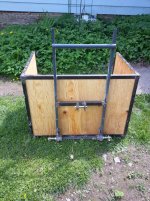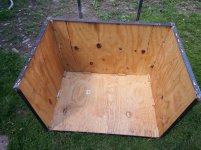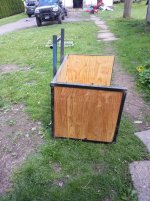 I thought about cutting the treadmill frame down to the same height as everything else, but decided to leave it for the kids to hang onto if I let them ride in it while mowing. I found an unplanned use for it today pulling it out of the barn to finish bracing and painting!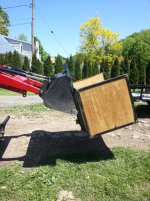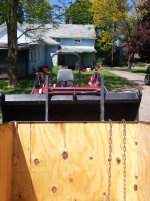 Still to come are some PVC pipes on the tractor side to hold tools. That's it until I get more ideas for it.