/ My Industrial Cabin Build
#1
Joined

Jul 15, 2015
Messages

2,436
Location
Tractor

Kioti RX7320 Power Shuttle Cab, Komatsu PC130-6
We broke ground on the homesite this weekend.
As many of you know, I have been building an orchard in the Blue Ridge Mountains in Virginia. 55 acres purchased in last summer 2015. We had 20-25 acres logged, leaving us with an inordinate amount of slash and debris. We have 3 acres of Apple trees in the ground right now, with the eventual goal of opening a Cidery and producing craft hard cider.
We built 1/2 miles of road and a bridge to reach the home site. and for the last couple months, I have been staying onsite on the weekends in a camper that we put where we will be building our barn/shop.
I have had the drainfield marked, and analyzed (I think that is the correct word. We dug 5 large holes and they studies the rock to make sure it would work. ) I have had the electric company come out and do a walk thru with me for the power lines to be brought in. I received the contract with he electric company on Friday and gave them a quick read thru Friday night.
I have had the contractor who will put in my foundation come up and tell me what he needs me to do to prepare the site for him to come in and do the footings and foundation.
And most importantly, My home plans were drawn up by an architect friend who designs fantastic homes and buildings and the plans were submitted to the county for approval and building permits. Last weekend it was too wet to do much work on the home site, so we burned a couple piles of slash instead.
This weekend we dug up and moved all the stumps that were in the drainfield. And started digging up the stumps in the homesite.
Before and after on the homesite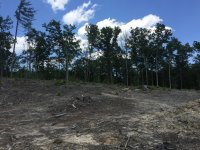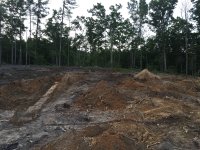 Looking down toward the drainfield. Lots of stump piles to deal with.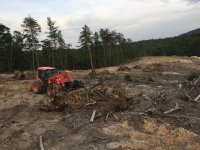 Last edited: