/ My new Massey Fergusson 4707 is here!!!!
#31
Joined

May 26, 2003
Messages

23,961
Location
Tractor

Several, all used and abused.
Thanks everyone.
My 6 foot mower couldn't handle the power from the tractor. I started another thread about it, and most likely, my slip clutch wasn't working. I never adjusted it and that's probably why the drive shaft failed. The other reason could have been that the drive shaft wasn't long enough. The distance from the gear box to the PTO shaft is longer, and the driveshaft might of been extended too far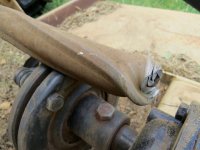 I thought about repairing it, but what I really wanted was a bigger mower. I didn't want to go farther into debt, but with inflation being what it is, the time do do it is now. My dealer had a 12 foot Titan medium duty batwing in stock for $12,899. With $3,000 down, I could finance it for $185 a month.
Saturday morning I drove to his yard and they loaded it on my trailer, and hauled it home.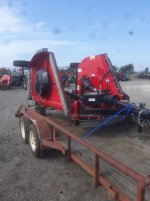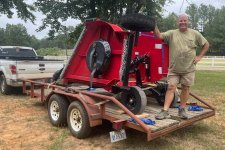 Hooking it up was pretty simple. It took a few tries to get the spacers figured out to get the cut where I wanted it, but that was easy enough. Adjusting my mirrors has been the hardest thing to get right!!! It only has one hose, and I got lucky on my first try. The hydraulics raises the wings and lowers the tires. When I want them down, I just release the pressure and it lowers down to cutting height.
The Titan 1912 is rated for 2 inch material, and I'm just cutting weeds and saplings. I'm not trying to clear land with it, just maintain what is already cleared. I'll use my backhoe to take out trees and open things up some more.
The mower has really surprised me. I'm comfortable at 2.3 MPH. The next gear up brings me to 3 MPH, and that's great for smooth areas, but too bouncy for most of my land. The tractor never bogs down!!! I was going though stuff that was over my hood, and it just kept going at 2.3 MPH like it was nothing. I thought it would be twice as fast as my 6 foot cutter, but now I'm thinking it's more like 4 times faster to cut an area compared to my 37HP tractor and 6ft butter. It's just crazy how much more I'm able to get done. And best of all, I'm not worn out after mowing for a few hours. It's actually refreshing!!!!