Joined

Feb 15, 2014
Messages

231
Location
Tractor

Deere 265, Kubota KX41-3V
Hello all, I am a retired mechanical engineer having stopped looking for a regular job for about three years now. I have been looking to keep my gray matter busy other than working on the regular upkeep jobs around the house. I like to tinker, design and build things; I have a fairly complete machine and fabrication shop at home and am well versed in the use of various computer programs including 2D and 3D CAD. Some time ago, I came across the Youtube video of a tracked vehicle called "Swamp Thing" which was built by an individual named Tom Zervas in Saginaw, MN sometime around 2011. Here's a photo of it and you can see his video here: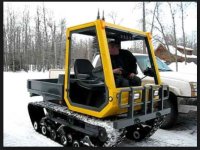 Swamp Thing by Zervas - STZ Custom Track Vehicle - YouTube
This design interested me and I tried to find out more about it. Unfortunately, Tom Zervas died last year (2017) and the youtube video is all I could find on this machine. Being an engineer, I decided to design and build one on my own. I researched a bunch of threads on this site and more than a few others, and watched a bunch of videos as well. I planned to use a Geo metro engine or similar, but recently came across a cheap Toyota Echo due to it being crashed and totaled. I plan to use that engine and auto transmission. I will use differential brake steering and build my own tracks from conveyor belting and steel channel sections. I spent a few months modeling up various configurations and the following is my current design. Any comments or suggestions are certainly appreciated. I plan to regularly post new photos of the parts I make and keep this thread running while I progress it thru the build and hopefully, testing process. Let's have some fun and a few beers doing it!