Joined

May 26, 2003
Messages

22,948
Location
Tractor

Several, all used and abused.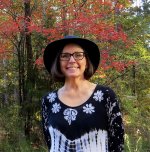 This morning my wife successfully defended her Dissertation and officially earned her PhD. On Dec 13th, she will receive her degree at the graduation ceremony. What impresses me the most about this is that she is a High School drop out that was married with her first kid when she was 16. After her second kid, she realized that she needed to make some changes in her life and started her life of education. First was a Bachelors in Nursing, then a Masters in Nursing and then her MBA. All along, she wanted a PhD, but she was also raising 4 kids on her own and working full time. She never gave up, even when she was confined to a bed in the hospital while fighting colon cancer last year!!!!!
The PhD is in Palliative Care, which made it a lot harder then some of the other things she could have done it in, but that's where her passion is and it's a field that has been neglected by modern medicine. There are a lot of plans for her with the University, she will now be on the track for Tenure, they are talking about a speaking tour and one of the advisers today said that they need her to come to DC to explain her work and do whatever it is that they do there. It's all over my head, especially since she writes at grade level 19, but from what I understand, she has 4 articles to publish from this, and there is talk of the University of Texas giving her a year off from teaching to focus on her research. This is all talk, but it's been in the making for awhile now. She just needed to finish this part and now we will see what happens next.
I am now official a Doctors husband!!