/ Need First Tractor. . . I want to learn! ! !
#1

Joined

Aug 26, 2018
Messages

190
Location
Tractor

Kubota - MX5400 DTC
Good Evening. . .
I am retiring on Dec. 31 after 30 years in Federal Law Enforcement. The wife and I bought 20 acres in the sticks to build a house, and enjoy the country. Approximately 9 acres of pasture, 11 acres of trees. The land has very sandy loam soil. I plan to have a road laid with "recycled asphalt." Water will be from a well. The pastures have old matted dry grass with large weeds that have taken over (pics will be attached). The sandy soil is, how do I describe it, "bumpy?" Kinda like you might have wet muddy pasture that was driven thru with a tractor, and then it dries with the tire tracks. But this is very sandy, so the bumps could easily be smoothed out. I really want to get the pastures under control with some coastal Bermuda.
Main topic of this thread it to understand what kind of tractor I will need, and what implements.
Questions I will need answered about buying a tractor. At least these are the questions I know of, but I am sure I need advice that I'm not even aware of.
1) What size tractor will get the job done
2) What implements do I need
3) New or Used - I have to spend a lot of money on a house, long road, water well, shop and electricity back to the house, so I have to be careful with my funds. I am ALWAYS more than willing to spend a bit more for new, to have the confidence that it will not break. I just don't know how reliable a moderately priced used tractor is. But, $8,000 for used tractor, implements and trailer vs. $19,000 for a new Package Deal is quite a difference. I am just worried about spending the money on the used tractor, only to find it breaking on me within the first year.
4) New Tractor and Used Implements? ? ?
My brain has absolutely NO tractor knowledge. I have read many threads, and have tried to learn. One thing I have learned is that I need to decide what I want to do with the land, and then decide on a tractor.
So. . . Here are the things I plan to do with the property.
1) Build House
2) We will have no livestock of any kind
3) Will want to plant numerous fruit and pecan trees
4) Will want a decent size garden
5) Will want to rejuvenate pastures from weeds to Bermuda grass
6) Will need to drag some dead fall to the pasture for burning.
Okey Doke. . . I think that is it. I know I am starting a thread that is like opening up the flood gates, but I am ready to start learning. Reading the other threads help, but I reckon I need some dialogue.
Thanks for help. . .
John
Pic of property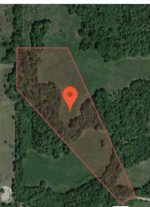 Pic of Weeds and Pasture