/ PT woes..... 1850 wiring
#1
So, the 1850 and I haven't really been getting along lately. Every time I go mowing, something goes wrong.
I attribute a lot of it to "working out the kinks," but today's escapades have left me a little defeated.
Last time I mowed, it was very hot out. I saw high engine temps (220F+) after about 20 mins and the hydraulic oil cooler fan never came on. This afternoon, I removed the engine cooling shroud and it was mostly clean. I found a wire off of the temp sensor in the bottom of the engine bay, so I replaced the connector and reattached it. I went out to get the temp up and do some mowing to see what happened.
On the first pass across the hill, the seat tipped fully to the left, even though I was only on a ~20* slope. Limped it back home with one foot on the treadle and the other on the seat switch while kind of hanging off of the canopy. It was "fun."
Current Situation: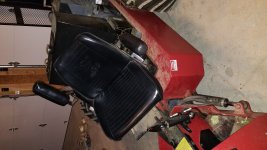 Its further become clear that I have some electrical gremlins (fan, beacon and rear work light do not work either) and I'm sure that my seat control problem is in there too, but I honestly don't even know where to look. I haven't had a chance to put a meter on it or anything, so that will likely tell me more. PT very kindly sent me a "Parts Manual" with some other basic info, but I have nothing on the electrical system or even where to find fuse boxes or anything.
I'd appreciate any pointers. Thanks!
Edit: In the good news dept. I traded 2 cases of beer for a pre-MM 9' fisher plow in decent shape with a new cutting edge. An afternoon of welding and some new hoses and we should have a snow solution!