Joined

Mar 5, 2019
Messages

749
Location
Tractor

RK24H, Gravely 8123
Instead of piggy-backing off this thread, I'll start my own. This thread (and video) deals with an RK19. The RK24 is a little different.
https://www.tractorbynet.com/forums/rk-tractors-owning-operating/411424-rk19-rk24-first-50-hour.html
I performed the 50hr maintenance on my RK24 2 days ago and thought I would post up a how-to for anyone interested.
I bought the exact fluids & filters RK had listed. When I purchased the stuff (at Rural King) the main tractor salesman had the cashier print a duplicate copy of my receipt so he could enter into my "record" that the 50hr service had been performed. I guess they keep track of that for warranty purposes if you ever file a claim.
Here is the shopping list for what you need to buy from Rural King.
As of this posting, the oils are listed on the RK website, but the filters are not. However, I called my local store with the SKU's and they were able to tell me if they had any in stock.
The oils are available on the shelf, but the filters I had to ask the guy at the tractor desk to get for me. They had them in the service department.
The TYM filter numbers are what are actually printed on the filters and the stickers on the bags the filters come in. Use them to verify you get handed the correct filter.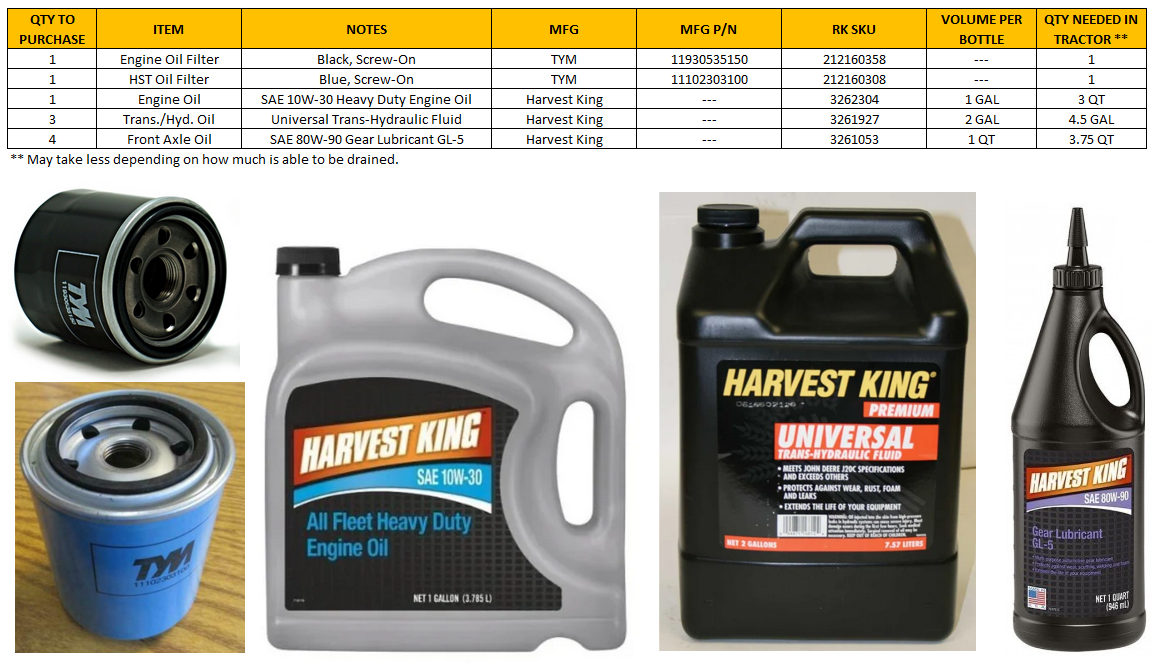 Sorry for my tractor be so dirty in the pictures. What can I say, it gets used.
To that point though, be sure to clean around every fill, drain, and vent plug before you remove them, to avoid getting dirt in things.
Procedure (How I Did It)
[Tip: Every fill, drain, and vent has yellow paint on it for easy identification.]
[Note: When I refer to the left and right side of things, that's from a seated position, as if you were driving the tractor.]
Engine Oil, Oil Filter, & Air Filter
1. Raise FEL and lock joystick.
2. Turn off tractor.
3. Open hood and remove side panels.
4. Remove oil fill cap on right side of engine (to vent).
4. Drain oil and reinstall drain plug. (The drain plug is on the right side of the engine oil pan. Sorry, no picture.)
5. Remove old engine oil filter.
6. Install new engine oil filter. [Tip: Use a silver Sharpie to mark the date and engine hrs on the filter for future reference.]
7. Add new oil, checking level with dipstick.
8. Run engine and check that the oil light does not stay on. (It may light up momentarily at first startup, but should turn off almost immediately.)
9. Clean engine air filter.
10. Reinstall side panels and lower hood and FEL.
Front Axle Oil

[Note: Plugs may be very tight due to paint from factory.]
1. Remove fill cap (has integrated dipstick) and 2 vent plugs.
2. Remove all 3 drain plugs and drain oil. (It's thick. It may take a while.)
3. Reinstall drain plugs.
4. Add new oil slowly. It needs a chance to drain into ends of axle. Make sure the vent caps are still removed.
5. Check oil level with dipstick and reinstall the fill cap and 2 vent plugs.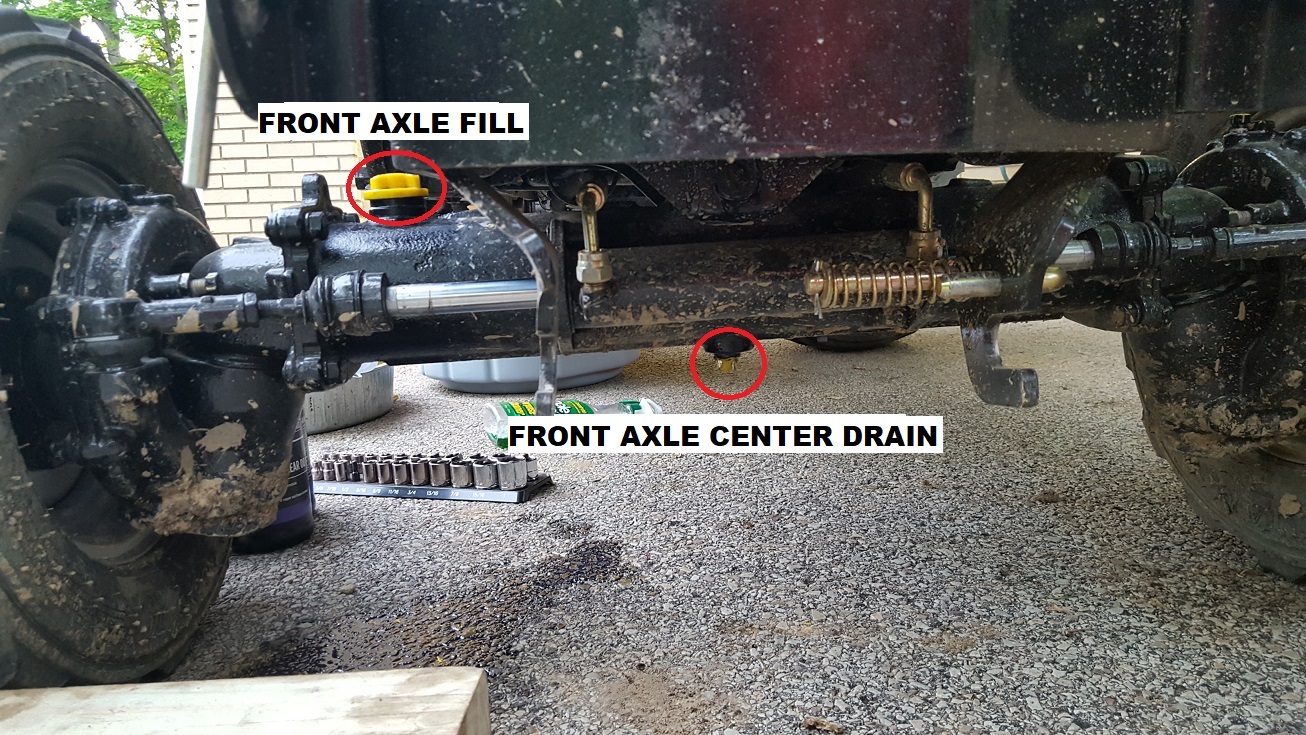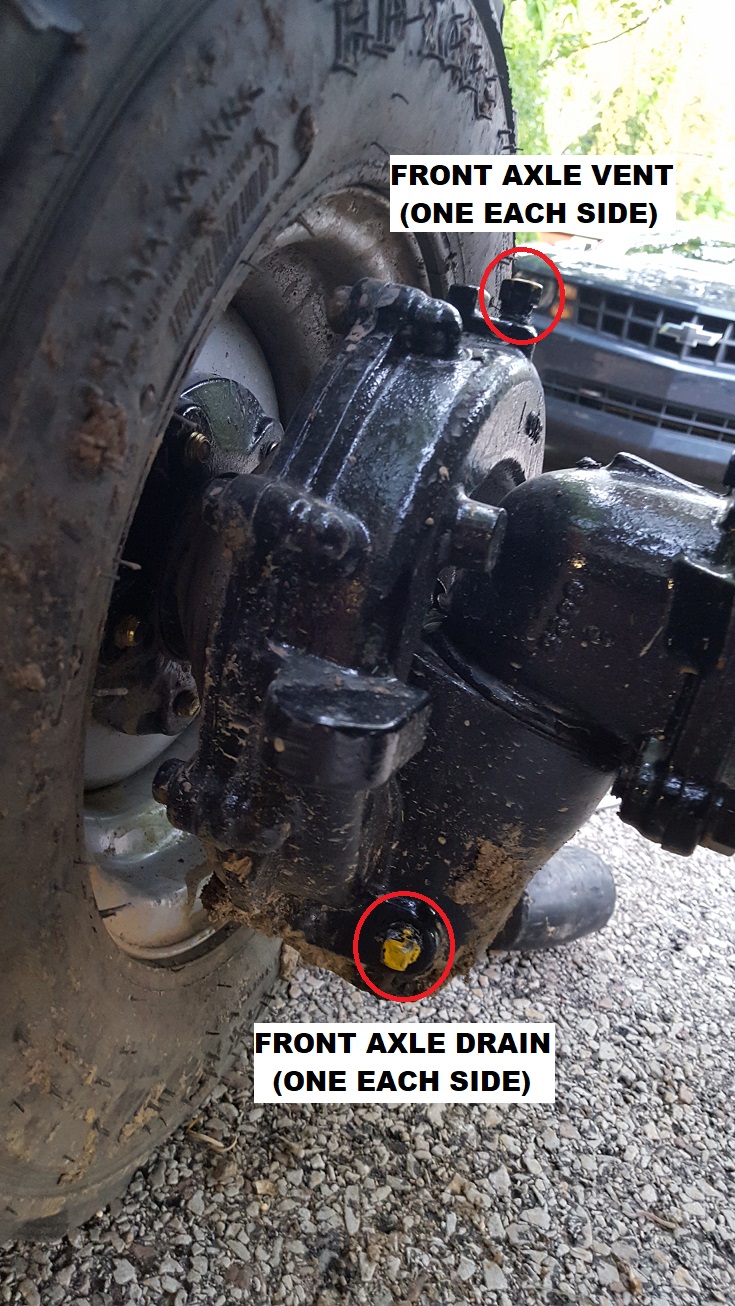 Transmission/Hydraulic Oil
[This one is a little more involved.] [HST = Hydrostatic Transmission]
[WARNING: When working under tractor with wheels removed, always use jack stands!]
1. Block front tires.
2. Jack up left rear of tractor and remove left rear wheel.
3. Remove left and center HST drain plugs and drain oil.
4. Wipe any metallic debris from center drain magnet.
5. Reinstall left and center HST drain plugs.
6. Reinstall left rear wheel and lower tractor.
7. Jack up right rear of tractor and remove right rear wheel.
8. Remove right HST drain plug and drain oil.
9. Reinstall right HST drain plug.
10. Remove HST suction screen.
11. Remove debris from screen and clean with diesel fuel.
12. Reinstall HST suction screen.
13. Disconnect hydraulic hose from HST. (It's the one in the pictures, directly below the HST filter.)
14. Remove HST filter. (It will just fit between side of HST and pipes/cables with the single hose disconnected.)
15. Install new HST filter. [Tip: Use a black Sharpie to mark the date and engine hrs on the filter for future reference.]
16. Reconnect hydraulic hose to HST.
17. Reinstall right rear wheel and lower tractor.
18. Remove HST fill cap on rear of HST. (Has 2 yellow dots and a breather on it. Sorry, no picture.)
19. Refill HST oil, keeping an eye on sight glass on rear of HST. (Stop when oil level reaches red dot on sight glass.)
20. Reinstall HST fill cap.
21. Remove front wheel blocks.
22. Start tractor and cycle FEL and 3 point hitch.
23. Verify that tractor operates normally in forward and reverse.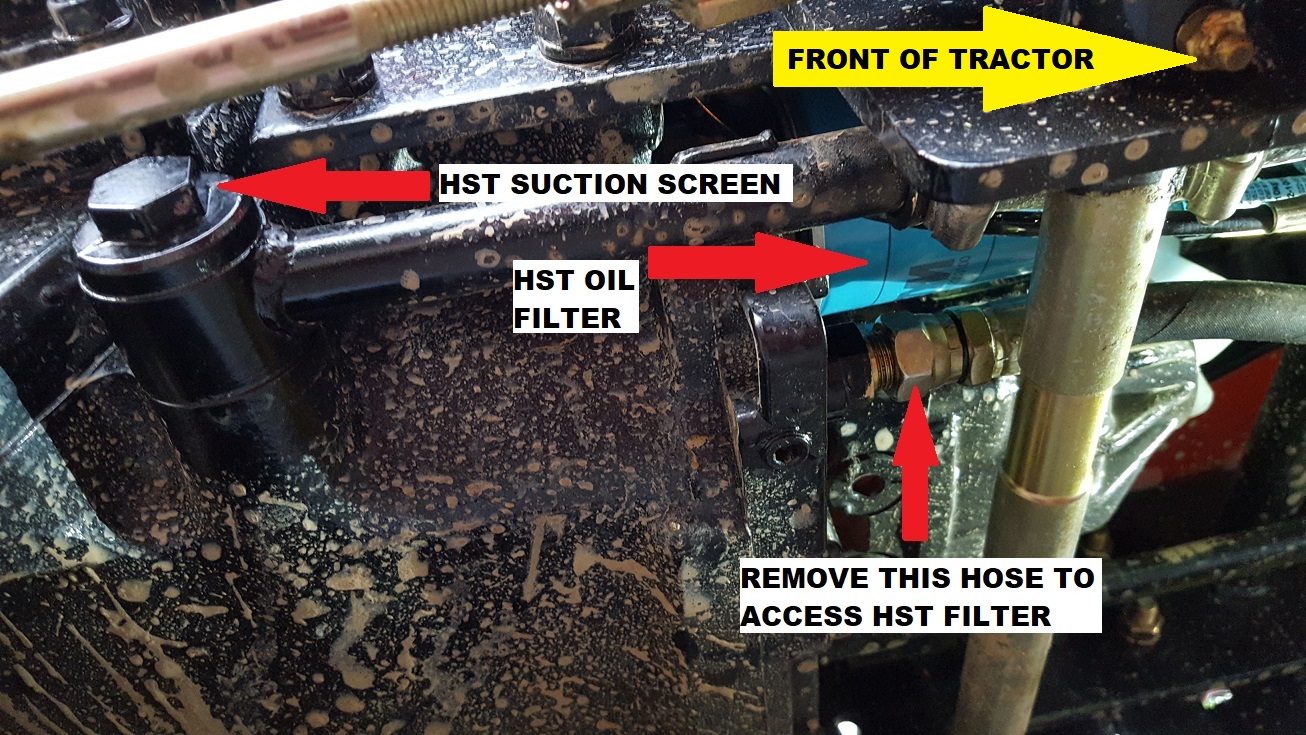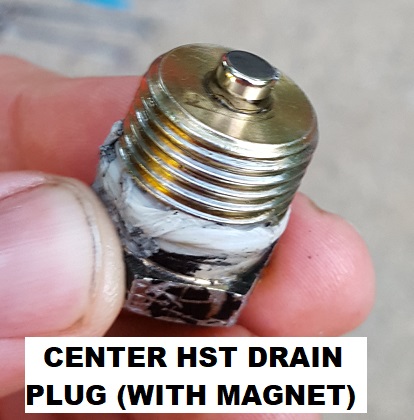 Grease & Wheels
1. Grease all grease fittings on tractor, FEL, attachments, etc.
2. Check tire pressures and correct if necessary. [Front: 40 PSI MAX] [Rear: 25 PSI MAX]
3. Check that all wheel bolts are properly torqued.
:cool2: DONE! :cool2:
Since I had to figure all this out as I went, it took me about 3hrs from start to finish.
If I were to do it again, it would be faster.
I hope this helps others!
Last edited: