/ Rural King RKTractors RK55HC 550-hour service
#1

Joined

Mar 31, 2001
Messages

1,370
Location
Tractor

2019 Rural King RK55HC with Loader & Backhoe; 2001 New Holland TC40D with Loader
This 550-hour post is made as an adjunct/follow-on to my 50-hour service post which you can find here
RK55 Hydrostatic 50-hour Service: My first big RK post
It should be noted that I performed the 300-hour service (engine oil/filter change, plus check and lube) at 300 hours EXACTLY on 9/12/2021 - TYM filter with Rotella 15W40 T4.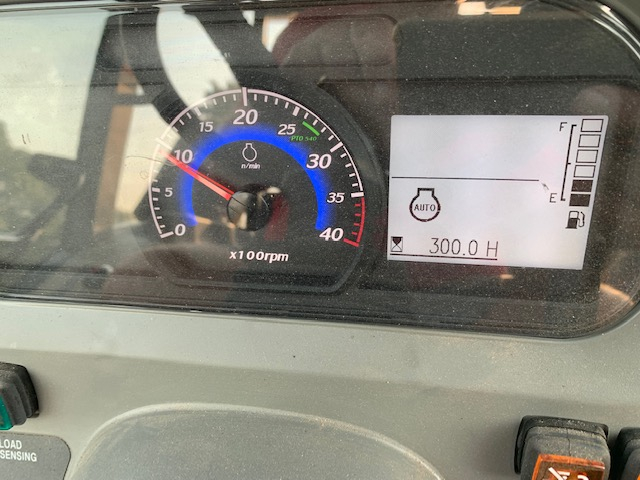 Please let me know if anything should be corrected.
With my comments below, I am assuming the person doing their own service has a level of comfort and familiarity with fluid changes on a car, lawn mower, or other internal combustion engine. In addition, this is my own experience – RK is the ultimate authority on how their tractors should be serviced which is why YOU SHOULD READ THE MANUALS. In other words, don't blame me if you do what I do and it's wrong! Fortunately over the years I acquired the RK55 owner's manual, RK55 parts manual, TYM554HST workshop manual, and a Yanmar TNV series service manual (does not have the 4TNV86 that my tractor has, but there are many helpful topics discussed - most notable fuel filter changes and bleeding.)
The 550-hour service at 516.3 hours took me about a day and a half to complete, a little earlier than recommended (except fuel filters) because it is the beginning of heavy-use season.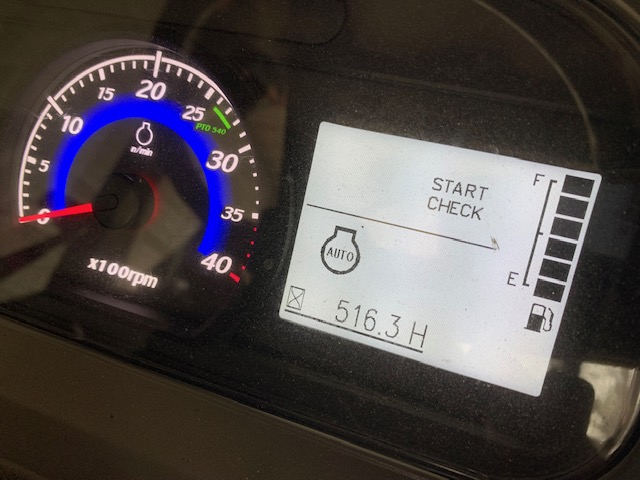 My cab tractor has L110 loader, BH85 backhoe, optional 3rd remote, and 3rd function control. Before servicing my tractor, I removed the entire backhoe and the front bucket from the loader to improve access, then ran it to operating temperature to warm up the fluids, raised/blocked the front loader arms, lowered the grill guard, opened the hood, and removed the engine side panels.
Prior to draining fluids, I collected all the necessary filters, fluids and tools. Note that the RKTractors.com website has a list of recommended filters and fluids
https://www.rktractors.com/pdf/brochures/maintenanceproducts.pdf
,
but the document has a several typos under the RK55 Series specs so USE AT YOUR OWN RISK AND VERIFY WITH THE STORE:
I used:
Filters (with Rural King stickers on TYM and Yanmar packaging):
Engine oil (black) TYM brand
HST (small, white) TYM brand
Hydraulic (big, black) TYM brand
Fuel filter (front, black, spin-on) Yanmar brand
Fuel filter (separator, near firewall, element only) Yanmar brand
Air filter (primary) TYM brand
Air filter (secondary) TYM brand
Air filter (cabin x2) TYM brand
Fluids/Lubricants
Engine 15W40 Rotella T4 (my preference over RK's house brand oil), manual accurately says about 1.4 gallons
HST/Transmission Providence Trans-Hydraulic Universal (black lid) per the recommendation of Arlie the Front Royal VA service guy, manual says about 9.24 but I used all 10 gallons
Front axle/reduction gear Super Tech 80W-90 Gear Oil, manual accurately says about 2.64 gallons for the total 3-part front axle service (see below)
Grease fittings Lucas Marine with calcium sufonate NLGI #2 grease, less than one 14 ounce tube
Heim joints and other rub areas Husqvarna Bar & Chain Oil
In addition to traditional metric tools – socket set, combination wrenches, spanners, etc. – I needed a filter/strap wrench and a 3/4"-male-to-1/2"-female socket adapter with an open end wrench.
Coolant – none needed. No leaks noted at hose connections, will monitor for future drops in level. The coolant itself is clear, with no debris or discoloration.
Air Filter – per service manual, replaced both primary and secondary early of the recommended interval.
Engine Oil – fluid and filter changed early of the recommended interval. The magnetic drain plug had no signs of metal. If you have ever changed oil before, the procedure was normal with the following exceptions:
The owner's manual diagram (page 5-9) leads you to believe that there are two oil drain plugs – there is only one. As usual, the backhoe subframe's front mounting plate covers the oil drain plug leaving a gap of about two inches between the plug's bottom and the plate's top. The mounting plate has two very large holes, but they do not line up with the drain plug – offset by nearly two inches. If I tried to drain oil as it exists, oil will spill everywhere. I used a "funnel tray/sorting tray" SKU37081 from Harbor Freight for $3.49 which does the trick for catching and diverting the oil into a catch pan.
Transmission fluid – fluid and both filters changed. The magnetic oil plug captured one small "pencil" shaving on it that resembled manufacturing debris. Like the engine oil, the procedure was normal with the following exceptions:
HUGE *HUGE* TYPO IN THE OWNER'S MANUAL LUBE CHART on page 5-10 – do NOT use API GL-4 80W gear oil in the transmission case of a hydrostatic tractor! Use trans-hydraulic fluid here https://www.rktractors.com/pdf/brochures/maintenanceproducts.pdf or those recommended by the RK store tech.
Almost 10 gallons of fluid drained out. A 5-gallon bucket fits perfectly under the drain plug, BUT the subframes will not allow you to get it out without tipping it over; whatever catch basin you use, it has to be shorter than 12.5". In addition, since most containers are less than 10 gallons, be prepared to temporarily reinstall the drain plug to change containers. The magnet is very strong and wants to stick to the transmission housing, making it a bit of a challenge. I found a flat 5-gallon drain pan at Tractor Supply that worked.
Front axle and two final reduction gear housing fluid change – as I learned at 50 hours, these three items are NOT connected via common sump as the owner's manual (page 5-15) may lead you to believe and must be drained/filled separately. The procedure was normal with the following exception:
Unlike the first 50-hour service, all the plugs came out easily using the 3/4"-male-to-1/2"-female socket adapter with a 19mm open-end wrench. As I thought, subsequent changes were easier since I reinstalled the plugs with just enough torque to keep them from oozing and there is no paint.
Filling the final reduction gear housing via the vertical upper plug hole is a pain (as it is on my New Holland too), but a 1-quart used 80W-90 squeeze bottle with an 18" piece of clear tubing pushed over the tip made filling easy.
The 2.64 gallons of fluid appears to be for all three items: the axle and the two gear housings. The first time, I tried to dump in the 2 gallon container to the axle fill port and overflowed it.
As with the 50-hour change, the front axle fluid level dropped significantly below the dipstick lines once the tractor was moved. There must be an air pocket somewhere in the axle that doesn't fill when gears are static, so topped off a second time.
The 80W-90 gear oil is very thick and on a cloudy 60-degree day does not flow well. Yesterday was beautiful so I left the container (which was black) out in the sun to warm it up to flow a little better.
Fuel System - done at 516.3 hours but recommended for the first time at 500 hours. I am combining both the filter change and water-separator element in a single section since they are related.
I started at the fuel bowl/water separator – shut off the fuel valve on the housing ¼ turn, pushed a ~36" length of clear tubing onto drain valve (like a plastic brake bleeder valve) at bottom, opened drain valve several turns, removed air bleed bolt with little "o"ring at top (vacuum keeps the fuel from draining), and let fuel drain out of the bottom.


Near the radiator and blocking the fuel filter (and the oil fill plug) is a small, slotted protector plate - loosened 2x 12mm bolts and the guard slid outward. Put catch pan under front fuel filter, loosened spin-on filter with strap wrench (unlike all other factory-installed filters, this was NOT overtighted and/or painted over to my relief), and carefully removed it (full of fuel). Installed new filter to hand-tight.


Returning to the separator, no more fuel was draining so I removed the clear tube and fought to get the clear plastic bowl off for the first time. A strap wrench didn't have enough "swinging room" to spin, so I carefully used my trusty huge channel lock pliers and got it moving a 1/16-1/32 turn at a time - eventually able to turn it by hand. There is a large "o" ring around the bowl's lip, a red plastic ring in the bottom, and the drain valve with a little "o" ring - clean everything.
The separator filter element was a surprise - I thought all the fuel had drained out, but the element holds fuel as you remove it from the housing, which resulted in about a cup of diesel splattered everywhere (no catch pan prepared!). Installed a new element along with cleaned bowl pieces and screwed on hand tight. Opened the fuel shut off valve ¼ expecting the bowl to fill and it did not. I did not (but should, in hindsight) reinstall the air bleeder bolt with "o" ring at separator's top (need to or the fuel system will not bleed/prime - see below). Bowl would not fill.
Read everything I could find about bleeding the fuel system and the Yanmar manual explained it best: the system is self bleeding and self-priming. Turning on the ignition key to "on" causes the fuel pump to start running (always heard it running faintly before turning over the starter), which pumps fuel to the injector pump; fuel not sent to the injectors by the injector pump is sent to the injector pump body for cooling and then recirculated back to the fuel tank. The only conflicting information was about whether or not the air bleeder bolt should be tight or loose (some references to waiting for bubbles to stop before fully seating it). Turned the key to "on" (NOT start) and the pump started - could hear liquid burbling in the lines and through the filter and saw the separator bowl try to fill, but no bubbles came out of the air bleeder bolt. Let it run twice for 15-20 seconds. I closed the air bleeder bolt and it would not start. Opened air bleeder bolt and repeated - would not start. Since it is a closed system, I decided to close the bolt and let it run 15-20 seconds before trying a third time. Success - engine immediately fired!
Grease fittings – Again, the tractor owner's manual diagram on page 5-9 is inaccurate – there are 5 nipples total, not 9 as indicated: 2 on the front axle pivot, 2 at each end of the brake shaft (one is behind the HST filter – hard to see), and 1 on the 3PH tilt link cylinder.
The bottom line: this service was significantly less time consuming than the 50 hour service because I didn't have to break factory connections for the first time except for the fuel filter and fuel/water separator bowl. In addition, I have done an intermediary engine oil/filter change at 300.1 hours and numerous greasings since the initially 50 hour major service, so I know my way around the tractor now.
Side notes:
Earlier this week, I posted on another thread Anyone have 300+ hours on their RK55? about my experiences over the past almost-550 hours saying "Almost 550 hours on my RK55HC - preparing to do a second hydro change plus full service. Problems: leaking right tilt cylinder on loader (warranty), getting the filters off for the first change (see my 50-hour service thread), backhoe pin without a grease fitting (warranty), 3rd function gets "confused" at times, oozing 3rd remote, sticky 3ph control. Biggest complaint is limited visibility of loader implements (bucket/forks/grapple) due to the high hood compared to my 23yo New Holland TC45D, especially when changing. Other than that, this thing has been pretty good. Lots of mowing with a 7' finish mower and log moving/brush work with grapple."


I added both front and rear camera to the center-top of the cab to help with sight lines - nice additions, but the front one needs to be on the grillguard or the loader so I can see when changing loader implements.
Lousy paint - it's now a "pink-ish/orange-ish" red.
Dumb design - the loader hoses rub against the front right tire when turning sharply to the right (bungeed).
Difficult access - engine oil dipstick, loader arms in the way.
Stereo has to be cranked to overcome the engine noise at 540PTO rpms.
A sunvisor would be very nice - there is molding in the headliner for one, but it didn't come with mine.
A temperature gauge instead of an idiot light would be nice too.
AC is cold and heat is warm. Glass box = greenhouse/hothouse sometimes.
Joystick has come loose twice - loosened some bolts to slide the rubber boot off, tighten lock nut, reassemble.
Not one, single time has the engine had to do the parked/regeneration of the DPF yet. I guess we run it at 2000+ rpm so frequently that the running DPF burn cycle is enough. Dash indicator come on and the exhaust smells different, so I just keep working until the indicator goes off.
Range selector L/M/H is still balky, but finally I can get it to change without feeling it is being "forced".
The rear differential lock stuck on me the other day - need to investigate.
Skidsteer attachment release arms bend very easily if they get snagged on something.
Last edited: