/ SCUT . . . dump cart & trailer options that don't hurt your wallet.
#1

Joined

Sep 29, 2011
Messages

2,550
Location
Tractor

Massey scut 2015 GC1715
Greetings,
We like to think of our compact and subcompact tractors as big and mighty tools. But sometimes they are just downright convenient. And whether its in the back woods or field or yard - they benefit from some additional add-ons that help us carry and transport in those areas.
There are many trailers designed for highway and on-road uses to be pulled by cars and trucks and tractors. But this thread isn't about those. This topic is the carts and trailers that can be used on lawns, pathways, trails and in woods or ground conditions that benefit from tires that are more likely found on riding lawnmowers rather than wheelbarrows. These go by many names and descriptions - all designed to haul a variety of payloads that are often wet, dirty, moderately heavy or utility related.
So let's leave off the small metal 2.25 foot x 3.25 foot $100 trailers that are too small to be used by an atv, utv, or subcompact tractor and typically have wheelbarrow type tires. And I'm not talking about the dump trailers of 10 to 16 cubic yard capacity either.
This thread is more about the cart or trailer that typically can handle 500 lbs. up to 2000 lbs and not make a disaster of your lawn or trail.
I personally desired a cart/trailer that could be used by my riding lawn tractor but also could be used for heavier hauling with my sub compact tractor. A capacity between 1200 lbs. and 1500 lbs. was my target but I didn't want some heavy weight item that was hard to move around outside or in the garage. I didn't want unstable on hills and sidehills nor did I want an expensive cart/trailer. And I wanted dump trailer convenience in an easy method.
I looked at numerous 4 wheeled dump trailers of varied sizes and compared them with my local farm supply and big box store offerings for my current and most of my future needs.
I ended up getting the 2 wheel 1500 lb. capacity Polar Industries product shown below with the heavy plastic watertight box and steel frame.
It's a dump trailer but . . . No . . . this isn't a $ 6500 dump trailer. It's a nicely designed and built dump trailer for hauling 10 to 20 five gallon buckets of dirt or rock or cement or firewood or branches, grass clippings, or leaves/mulch/compost.
Some might say it is light in weight. . . and they would be correct if referring to strain to move it . . . it is lightweight - but it isn't light duty. And the tires and axle/frame handle up to 1500 pounds if needed and the unit has handled everything I've put in it including water, concrete, rock, wood and landscaping blocks and bricks and yard waste. But if you literally want to throw logs or drop large 100 lb rocks into it . . then this isn't the choice for you . . . its heavy duty but not indestructible. I've seen people throw firewood "at a trailer" or "drop" 100 lb log slices from 6 foot high into trailers - cracking 2 x 8 trailer decking. This isn't that use. But its not a toy either.
I have no rust or dents or cracks. Full full retail price on an HD 1500 like I have is $450 - but on sale you can find it at some locations for $350 or even less some times. In my purchase I also got upper optional expanded metal framed extensions for the sides and front that are quickly removable - which is great for hauling quantity of brush, leaves, or grass (that was a freebee on a special rebate sale which was another $95 thrown in.
I could have gotten the HD 1500 4 wheel tandem axle version for 650.00 plus tax on sale which uses the same extensions and tires and trailer tray instead. That would have been nice to have it totally free standing and horizontal standing without being attached to anything (could load fel buckets of rock or dirt into it conveniently) . . . . but I wasn't looking to spend $2000 or $1500 or $1000 or even $750 and I didn't want the added weight for moving it around physically. Now if I was going to be on really rough trails and in the woods often - then the 4 wheel tandem axle HD1500 would have been a very good choice.
The same product in a slightly shorter unit was the HD1200 models in single or tandem axle - each at a lower price than the HD1500 models - but again I wanted capacity in size and weight for the subcompact tractor or an atv/utv - as well as pulling by my lawn tractor - - - multiple uses by multiple equipment.
My point was - I was tired of too many light and heavy duty wheelbarrows - too many small pull behind carts that couldn't carry much or their tires that dug into the lawn. I wanted something that my lawn tractor could handle and then turn around and load heavy heavy items for my subcompact to pull and again - not an open trailer designed for the street and for lawn ruination LOL.
I'm repeating myself deliberately - because some want a brush hauling cart and some want a $2500 trail ride ATV trailer with independent suspension axles. My point is, post your responses about your choices based on your real needs - not the "bigger is always better" theme.
I got alot of capacity and flexibility for 350 bucks in my opinion plus the extensions for free and I put it together myself with a couple small modifications and adjustments to make it more durable and better performing than the instructions did.
And I have lots of slope and sidehill areas - and this cart/trailer keeps the weight low and the axle/wheels keep it wide LOL.
And the tires on it are almost as heavy duty as my front subcompact tractor tires.
Light yet strong. . . Big capacity yet inexpensive. Stable yet not unwieldy. Pretty great combination for my varied needs. . . And it's so easy to clean out because nothing sticks to it. . . Just let the rain or hose do I for you. It sat out all winter upside down - no problem in heavy snows. No rust or paint peeling and if I had an ATV/utv/subcompact tractor - it is a 4 season tool for Wisconsin weather hauling for dump or containing purposes.
my model size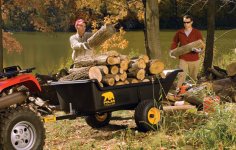 Product Weight (LBS) 127
Load Capacity (Lbs.) 1500lbs
Load Size (Cubic Ft.) 22 Cubic Feet
Load Size Heaping (Cubic Ft.) 27 Cubic Feet
Note - with extensions can be 35+ cubic feet
Overall Dimensions 98" x 54" x 31"
Body Dimensions 72" x 40" x 18"
Tire Size 18 x 8.50
All the Polar cart models:
Polar Trailers | Heavy Duty Steel ATV + Four Wheeler Trailers
VIDEO of the HD1200 and HD1500
So how about the rest of you ? What do you have for carts and trailering for your subcompact tractor, lawn tractor, atv, or utv?
.