/ The DIY $8 snow plow!!
#1
Joined

Oct 9, 2013
Messages

27
Location
Tractor

B3200, T1400HST
This was a quicky project that I decided to tackle last evening. Since I can plow with the B3200, I thought my son would like a plow for his T1400. I hit up the local metal supply shop for 16' of .125"x1.5" flat stock.......total cost....$8. For the blade, a blue plastic drum gave itself up for the greater good!! Other than that, some wire, few miscellaneous bolts and two quick pins completed the job. Below is a pic of version 1.0.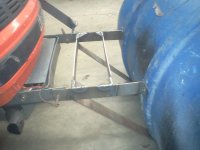 This is a pic of one very happy boy!!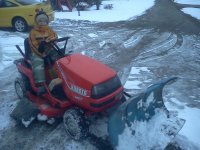 After a couple test runs I decided to greatly narrow the plow to save weight and keep it from "scooping" snow when lifted. When I did this it put a downward angle of the plow frame which made it want to roll under the tractor. So I spent an hour this afternoon, re"engineered" the frame, lowered the pick up point and made some more bracing. Now it works perfect!! He'll have a good time cleaning up the drive when a couple inches of snow have fallen. I'll grab a few pics of the version 2.0 in the AM.