/ Towable driveway graders
#1
Joined

Jul 28, 2013
Messages

19
Location
Tractor

allis
I have a 1/4 mile driveway to maintain. Right now I have a 3 point blade and have been planning on building a land plane. But, I was driving around the neighborhood last night and noticing how bad all the driveways looked. I have many Amish neighbors, and those narrow buggy wheels really cut up driveways. It occurred to me there might be an opportunity to provide a service and maybe pay for the equipment at least.
I started searching on Land Planes and ran across a couple that can be towed behind a truck. That would sure cut down on road time versus running my 7000 Allis around.
The two I found were from Domar and Eco Grader. The one from Eco Grader looked interesting in that the rear blade is adjustable to build up a crown.
Does anyone have experience with these or others like them? Anyone do custom driveway grading like this, and if so what are you charging?
Here's a couple pics:
TP Series Grader - Domor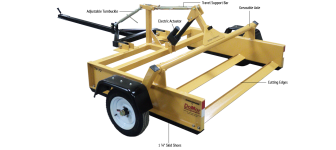 6FT Grader | Chicago Road Graders, Towable Graders and Road Grader Sales