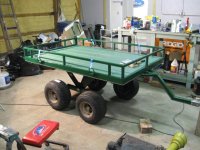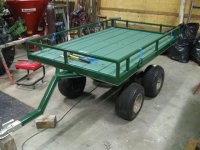 Any of you guys ever start what your thinking is a small project then somehow it turns into something bigger? Well this was mine for this winter. Needing a small trailer for my tractor as sometimes the bucket is just not quite big enough. Having some steel scrap around, a set of really wide trailer tires, and an old farm conveyor that would be perfect for the frame I set to work. About halfway thru tearing the conveyor thingy down I realized it just was not going to make a good frame. So discouraged I did some research on the ole interweb to get some ideas on what I needed. Boy, that was a mistake. I ran across some images of what is called a break beam axle and fell in love with that design. So I got my material list together, bought another set of tires and rims, two more stub axles, more steel tubing, paint, bolts, washers, ect, ect, ect. and came up with this. See photos.
During the design and build phase I had to catch myself a couple of times as I saw a really cool article on a powered trailer that runs off the pto. I found myself looking for pto shafts, gear boxes, ect,. Awaking in the middle of the nite to slap myself for trying to get off course yet again. Also saw several designs for dump trailer ATV trailers but decided against it for the reason with this type of axle set up the entire trailer bed tilts. Its also kinda on the small side so even if it was full of dirt it wouldn't be that much trouble to shovel out.
As a final act of over doneness I added pinstripping to the frame and rims. I think anything that moves needs pin stripes. Well as my old grand pappy use to say: "Anything worth doing is worth overdoing"