/ Whelp, for the first time in a hot minute I'm without a tractor...
#1

Joined

May 6, 2018
Messages

744
Location
Tractor

Kioti CK2610HST
Well, my Deere sold Saturday for $16.9k, $900 more than I paid for it 3 years ago; this leaves me with no tractor, not even a lawn tractor, for the first time in a long time.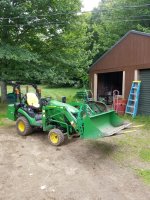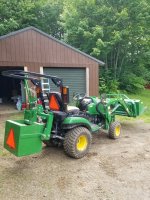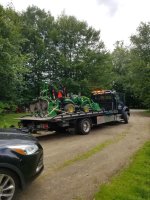 While this makes way for a new, larger machine, it also felt like I was saying goodbye to a friend. She never failed to start, and seldom gave me any trouble. Just too small.
Now the time has come to make a new purchase, after all the time I've spent looking at options; funny enough I still haven't narrowed it down to one lol. I'm still stuck between the Branson 2515h and Kioti CK2610H, and after spending a little time on both today I'm nowhere closer to making a decision.
The fact is that I like the both of them, so we will see what plays out over the next few days. That said, I wish the Branson came with R14's, as I'm not a fan of R4 tires. Of course, I would think many of my problems with R4's would be offset by the sheer weight of the 2515. I don't imagine that I'd spend much time spinning the wheels on either machine, but I saw the change in performance on my 1025R going from R4's to the hybrid tires. Again, I'm sure the weight difference negates a lot of that, but I'd love to hear your thoughts.