Joined

Oct 30, 2012
Messages

5,186
Location
Tractor

JD 5075E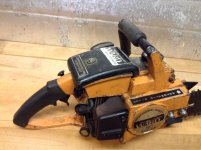 This is my latest project. A Montgomery Ward saw I traded for a bedroom door. I think it was made by Remmington (Arms) in the 70's,
The guy I got it from only had it a couple weeks but had gotten it from an older man who said he hadn't run it in a couple decades. Supposedly it worked when he had last used it.
My friend said he tried to get it to start but only got a couple of pops out of it.
I disassembled it, blew the crud out, put a new plug in it, and it started as soon as gas got to the carb (3-4 pulls).
It smoked like a chimney, so I asked my friend what gas and oil he had put in it.
He said "I didn't, that's the gas that's been in it!"
I'm amazed.
What's the longest anyone has ever stored gas?