Joined

Dec 5, 2016
Messages

29
Location
Tractor

LS/XJ2025H
So, I just got a new XJ2025.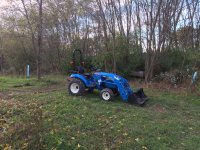 The tractor is great and I have already used it to haul out 500lbs of scrap metal which means it has gone $20 towards paying for itself in the first weekend.
Unfortunately...
One problem I noticed with the front end loader is that there is a lot of slop in the curl cylinder if it sits for more than 1-2 minutes. This makes back dragging very difficult. You can see what I mean here: [video]https://www.dropbox.com/s/gwc9aukja8dnjjc/IMG_2148.MOV?dl=0[/video] This video is me just raising and lowering the beam. The bucket flex is all on its own.
That means that after just a few days I have already sent it back to the dealer to get checked out. Now the good news: LS is aware of an issue where some of the loaders leak air. They have a fix, but are just working on sending out the kits. The dealer confirmed that mine is worse than most, but that the same fix should take care of it as soon as they can get the parts. Until them I am welcome to use it in its current state.
The issue is actually interesting because the curl is still strong, and I can pick up the front of the tractor by curling the bucket down. It also has full strength as soon as you tap the controls, but if you let it sit, even for a minute it gets very floppy. Has anyone else seen this issue and had a fix installed?