/ Zanon ZRF 1000 drum mower
#1
Hi
Last winter I decided to treat myself with a drum mower for my BCS 740, so I ordered a Zanon ZRF 1000 with a working width of 40''. I plan to use the mower to mow tall grass on my own meadow, and to help friends and neighbors mow theirs. As this type of rotary mower hasn't been mentioned much in this forum, it might be helpful with a little presentation first:
https://www.zanon.it/en/p/zrf-falciatrice-rotante/
The PTO-flange and the gearbox housing is similar to other Zanon mowers that I am familiar with, and the driveshaft housing has the Zanon-typical oscillating swivel-joint, that allows the mower to follow the contours of the terrain. The gearbox powers the two vertical drums, that each ends in a spinning horizontal disc with 3 hinged blades. Underneath each rotating disc is another disc on witch the mower glides over the terrain. The two photos below shows the business-end of the mower without the protective cover.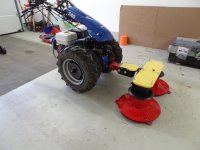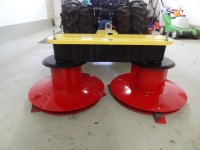 The entire mower makes the Zanon-typical heavy-duty impression, that I am familiar with from my Zanon ZCR lawn mower.
Early March I was trying out the mower for the first time, mowing a bit of my meadow.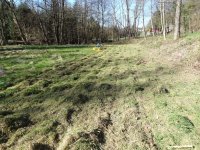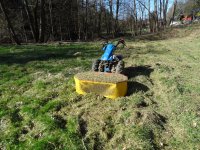 The drum mower turned out to be a very power-hungry implement as expected, but I was able to mow in 2nd gear with my 23'' tall wheels at all times. Compared to my experience with a sickle bar mower, the drum mower throughs more clippings and debris around, as can be seen on the second photo.
As with all rotary-type mowers, it is important to operate at full open throttle - or at least close to full open throttle. There are at least two good reasons for this:
Contrary to a sickle bar mower, all rotary-type mowers are very power-hungry, as the engine has to keep the blades rotating at high speed. Zanon recommends app. 3/4 full open throttle, which is 2700 rpm for the Honda GX 390 engine. From this speed and up to the rated speed of 3600 rpm, the engine produces 86-100% of its rated power. Equally important is the fact that the engine operates above its peak torque at 2500 rpm, allowing a curtain torque rise should the mowing conditions get tough.
The hinged blades on the mower are kept "straight" in their working position by centrifugal force, created by the spinning discs. As the magnitude of this force relates to the angular velocity squared, a small reduction in engine speed, will give a large reduction in the mowing capacity. A reduction like the above mentioned from full open to 3/4 throttle is equal to 25%, but the reduction in centrifugal force is almost 44%, leaving only slightly mere than half the centrifugal force to keep the blades straight!
Best regards
Jens