Well, having been a lurker here for ages I think it is time I say hello. I live on a farm in the UK where we keep our horses. We have about 80ac of land which is cut for hay twice a year and the rest of the time is grazed by cattle and sheep from our next door neighbours farm. Their farm is mainly poultry but they also keep some livestock. They mainly operate older MF tractors.
(All the pictures are 640 x 480)
This is our Massey Ferguson 135 with the Link Box
I have been driving tractors for a while now having started at about 11. I work on our neighbours farm during school holidays and on weekends during busy times. Being a livestock farm there is not that much machinery involved but there is still lots to do.
Rolling and Harrowing during the Spring
Fertiliser Spreading a bit later on and after the first silage cut
Wrapped Bale Silaging
Topping during the summer
Haymaking in the summer
Feeding cattle through the winter
The majority of our land is quite flat but some of the fields have quite a slope on them and you have to be a bit careful on them. We have land that boarders a river and always floods and rushes and stingy nettles come up. We like to cut this for hay so it has to be sprayes each year to kill of the weeds. We also have about 20 ac of woods that we are tring to manage. We are currently trying to reinstate a track that goes through the top of the woods which has been overgrown for about 35 years having been neglected by the previous owners.
Machinery
Our main tractor at the moment is a Massey Ferguson 135 from about 1971. It does all of the rolling on our land as well as the neighbours, topping, powering the square baler and all of the work around the house and garden.
I also drive our neighbours tractors but they like their old tractors so there is not much in the way of modern luxuries. They have all Massey Ferguson tractors, a 165, 165 with a loader and a 595. They all come from the 70's.
Hopefully we will soon be getting a new (old) tractor with a FEL with about 75 hp to allow us to do more hay and to drive a round baler. Currently all of the round baling is done by a contractor. We want to operate our own round baler to allow us to chose when we bale rather than when the contractor wants to.
Making Horse Hay
This is the main thing that we do on the farm and something we would like to do more of in the future. This year we will be cutting about 40 ac to sell as horse hay. This would normally have been cut and baled by now but we have had so much rain that it has so far been impossible to start haying. Hopefully we we will be cutting next week and I will post more about this.
We also have this little mower that we use to cut our lawn. It is a Husqvarna LT151 and is way to small for our needs. It is definitely going to be the next machine to be traded in. I made this little box to go on the back of it in place of the grass collector. It is quite usefull to carry tools around in. Here we were using it to pull a plank around some stakes to create a curve to finish off a retaining wall we were making.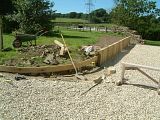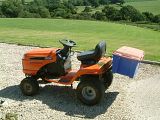 Hope that wasn't too boring and I will post some more pics when we finally manage to start cutting more hay. (If it ever stops raining!)
P.S. I hope I posted this in the right place
Jake
Last edited: