Joined

Mar 30, 2019
Messages

622
Location
Tractor

Kubota MX5400HST, Z724XKW-3-54
I have this shed...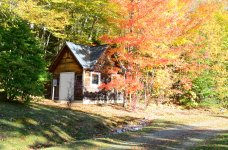 Scenic, no? I've always enjoyed the way it's nestled into the trees. Or I did until trees started falling on it. Time to clear them.
There is a hill behind the shed. Most of the trees that grow there lean a bit toward the shed.
To the left of the shed just behind that far left magnolia are 2500 gallons' capacity of buried propane tanks. There's probably 15+ feet between the building and the tanks. So if I want to fell trees to the left of the shed I have a "lane" in which they need to fall. It's not narrow, but it exists.
A lot of the trees are small, no problem, I can even push them over in the intended direction with just my body. The larger ones aren't monsters, probably 8-10 inches max, though that's a lot of weight in beech and birch, but clearly care is required. Maybe I'll have to hire most of it out if I can find a professional I trust, though they're few and far between these days (a lot of bad contractor stories of late). I'll be making calls when the snow clears.
I'm not a cutting expert, but I've been cutting trees for decades and have managed not to injure myself, so I'm reasonably careful. I have no block/tackle gear, I'd have to buy things to do this. I have no winch or related attachments for my tractor.
I'm thinking of using straps/cables of some kind to pull the trees in the right direction so they miss the building. The problem is that there is nothing good on the downhill side of the shed to use as anchors. I.e. there are no big trees in any reasonable distance on the other side of the driveway in the picture. If I want to use trees as anchors they'd be to the right and left of the shed (in the woods), forcing me to pull the tree somewhat parallel to the slope instead of largely perpendicular. They're also no larger than the trees I'd be taking down.
So my question is: can I use my tractor (About 3.5 tons with FEL+attachment and nothing on the 3ph) to provide the .... nuanced downhill forces ... and get these trees to fall to either side of my shed? Or is it simply a fool's errand even with sufficiently long straps and I should stricly hire a pro, if I can find one. Would I even trust them to climb the trees to cut them down? Or would a crane be required?
Btw, the shed contains a generator and some substantial electrical switches. This is not a garden shed.
Okay, let the wisdom and memes flow. I'm expecting that wanting to do it myself, for any large trees, is probably not the right thing, but I had to ask since I have this tractor and it'd be nice to save some money. Obviously either way I'll clear out as much small stuff as I can. Pointers to the kinds of rigging blocks I might use and where to buy them also appreciated. Or maybe this is the year of the logging winch setup for the 3ph. You tell me.