Artillian, LLC is proud to introduce our 3000LB SSQA/universal quick attach fork sets which are light enough for small tractors and strong enough for medium compact tractors. They are a perfect match for the new Kubota B2301/2601/2650/3350 and other models with the quick-attach bucket, and even the BX series with new universal SSQA coming to market.
Artillian 3000 Lb Skid Steer QA Pallet Fork Sets
They also fit many Kioti CK/DK models, New Hollands, Mahindra's, Massey Fergusons's, and more.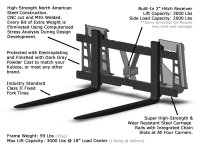 Artillian employs high strength materials, modern CNC manufacturing methods such as laser cutting & layered surface finishes for long lasting protection. Bulk is minimized through professional engineering, which optimizes weight and visibility.
To capitalize on our fork frames, we offer various expansion attachments such as our high strength/low weight modular Grapple
Artillian Grapple
that can be configured by the end-user for a variety of tasks.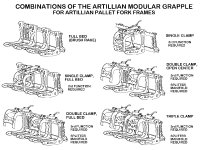 Our product line is designed to offer multiple year-round uses and also to last the life of your tractor, or longer.