/ M7040 sudden fuel line separation
#1
Joined

Dec 10, 2012
Messages

2,736
Location
Tractor

Kubota M7040 Nuffield 465
In my area a major storm is coming and because my wife is very ill, I was readying the M7040 and blower so I could keep our lane open for medical supplies or an ambulance.
I backed the tractor out of its storage location and was getting ready to drive it into my heated work shop. When I got out of the cab to open the shop door I noticed large quantities of a clear liquid dripping unto the ground from between the rear of the engine and the fire wall. The loader made it impossible to see but I feared something major happened to the steering valve.
When I got the loader off and was able to see, I noticed a fuel line leaving the injection pump had separated from a plastic check valve and fuel was pouring out.
The check valve had no raised portion on its nipples to help the wire clamp hold it in place.
The check valve and inside of the rubber fuel line were cleaned with brake clean and a much more robust spring type hose clamp was installed.
Owners of similar machines may wish to review the condition of the clamps and check valve and avoid a bad scare.
The check valve is used because the return line just dumps into the top of the fuel tank and without the check valve the injection pump could inhale air from the tank when the engine is stopped.
Other tractors I have known have the return line extend to the bottom of the tank so the open end of the return line is always submerged.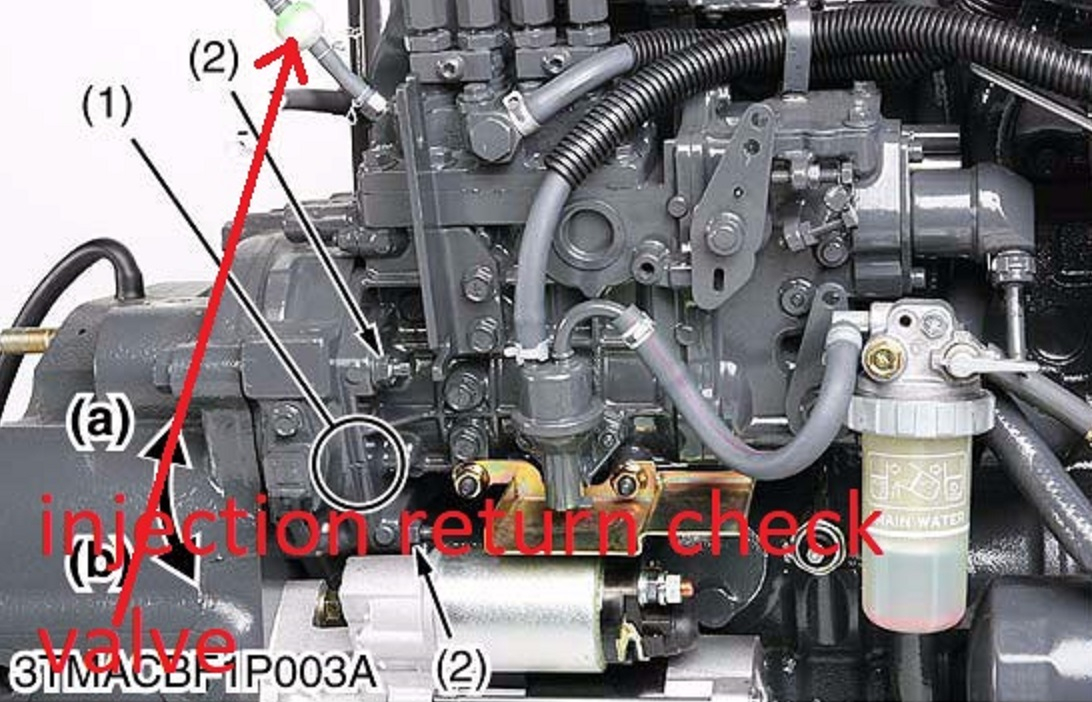 Dave M7040