Joined

Jun 4, 2005
Messages

7,538
Location
Tractor

Getting old. Sold the ranch. Sold the tractors. Moved back to the city.
Bought this 1948 Cub last year.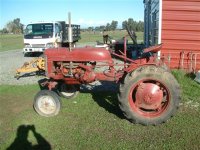 Not running but looking pretty good as it sat. Cleaned it up. Low compression. Pulled the head and reseated the valves. Brought the compression up to 60 psi range (still way too low, should be 100 psi +).
Pulled the engine and took it to the engine shop in tall stack configuration for a complete engine rebuild.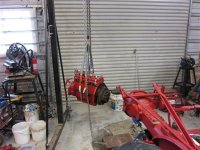 The engine guy stripped it down and was hoisting it over to his cleaning tank when this happened. The darn flange on the lower front side snapped off the block before the block had hardly lifted off the bench. The front end bolster gets bolted to the tractor via this flange which also carries the governor.
So it's a pretty important piece of the main support structure for the tractor.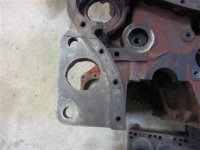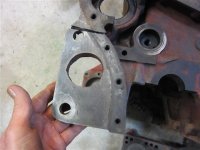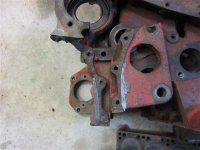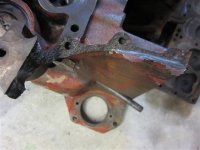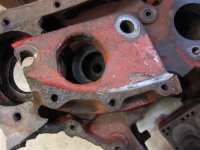 Looks like a previous owner cracked it and tried a hillbilly fix using JB Weld. That sure didn't work-- the crack propagated until all that was holding the cracked piece in place was the timing cover.
So now I have parts tractor and have to find another Cub, this time one that's running. What's discouraging is that neither I or my engine guy spotted this crack until it was too late. Bummer. Because that makes it more difficult to spot this problem on Cubs that I'll be looking at in the future.
It turns out that this failure is a well know deficiency in the Cub design--just not enough meat on the engine block casting in this area. Some unlucky Cub owners have snapped it off by hitting a pothole at high speed. Generally it will crack in this area and just cause a nagging oil leak at the front of the engine. But sometimes it cracks off the block completely like this one.
I don't think welding is an option here. Welds on cast iron parts are notorious for being hard to do, are prone to post-weld cracking which would be aggrevated in this case because that busted flange carries a lot of the tractor weight and is in a high stress area.
I need to find a couple of large wooden crates to store these Cub parts and move on to my next vintage tractor adventure
.