Joined

May 26, 2003
Messages

22,876
Location
Tractor

Several, all used and abused.
My 1998 New Holland 555E backhoe's hydraulics idiot light keeps lighting up, which indicates the hydraulics are overheating.
It happens fairly quickly, but not always at the same time, and the harder I run it, the quicker it lights up. Most of the time I just use it to bring a bale of hay out to the horses, and sometimes I can go there and come back without the light turning on, and sometimes it turns on half way there.
My first attempt at fixing this was replacing all the filters and all new hydraulic fluid. This worked great for a couple of weeks. Maybe 20 hours operating time. Then it started doing it again. My thought was that there was an issue with whatever fluid was left in it when I drained it, and that fluid plugged up my filters again. So I replaced all the filters again and put in all new hydraulic fluid again with zero change or improvement.
Here is a diagram of my hydraulic cooling system.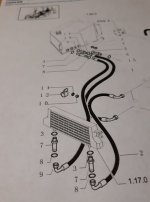 The big filter is just to the right of the picture, about mid way. There is a square thing that connects to the filter bracket and there are two hoses that come off of it. One goes to the hydraulic radiator, the other goes to the tank. I took it off and didn't see anything wrong with it, but I didn't really understand what it does. I'm thinking its similar to a thermostat on a car engine. It's wide open going to the radiator, so I put it back on.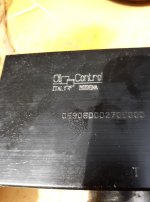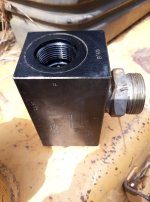 Today I took out the hydraulic radiator. It looks perfect. I put my air hose into one end and it blew out air from the other end. What did surprise me was that there was almost no hydraulic fluid in it. The way it's mounted is that it's above the height of the tank, so I'm guessing that what fluid is in there while operating, drains into the tank when the engine is off. That's my guess. Or is that a sign of the problem and fluid is not getting into the radiator?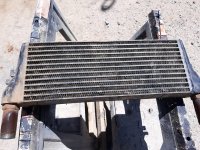 All the hoses are new, or near new. I've looked at touched every inch of every hose and there isn't any blockage from the outside. Nothing is crushed or kinked. I'm about to put the air hose into the line leading to the tank and see what happens. Then remove the filter and do the same on that line.
What am I missing?