Joined

Nov 4, 2017
Messages

835
Location
Tractor

M7060HSC/18, RTV-X1100C
My 50 year old Sidewinder had a rough life, the front edge had rusted through, the front beam cracked from striking the PTO shaft, the whole right corner had struck something and fallen off. But it would still cut however when I got my new tractor you couldn't get much travel and ground clearance and I wanted to use my hyd top link which gave me no flex point.
So I bought bushog flex link and bushing $70, new blades $70 and pivot bolts $40, new clutch plates $34, new cat 2 pins $22. Some news bolts and bars $28.
Moved bottom pins down to frame mount off the A Bars, cut bent welded tilted back the A bars to use the flex link, welded in the front a 2" square bar tubing to hold the right corner and patched the deck. Cut the broken center section out and laid in a 4" Chanel bar welded to A frame holders to add center strength.
Now it runs great for clearing out pine saplings, back into them bend them over and lower it chops them right off
Added a pic of a unit like mine found when I was researching model numbers, its in better shape then mine was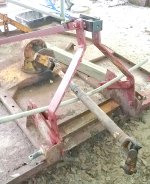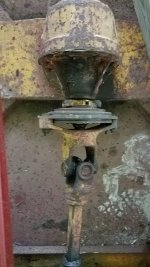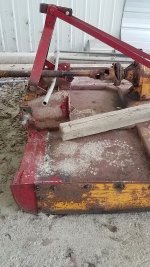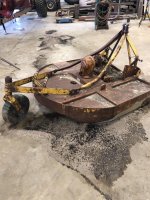 Last edited: