/ DIY FEL forks are surprisingly good
#11
Joined

Mar 1, 2014
Messages

328
Location
Tractor

Kioti Ck2510
I also started out using lumber as a simple fork, works decent enough. Eventually though I wanted to pick up pallets and that means thinner forks so time to upgrade! Given you've got hooks on your bucket already you can consider the route I took. (which was an idea I got from another member on here!)
I don't honestly remember the total cost but even buying new steel it wasn't much at all. I used c-channel to make the forks, and then found a steel tube that was a close fit inside the hooks, and another chunk of steel tube that slides loosely over that first steel tube. Makes the forks adjustable between the hooks. I was worried about the forks bending where the vertical c-channel meets the horizontal hence that rear extension with the triangular chunk of steel to give it extra strength.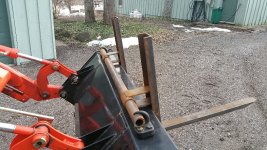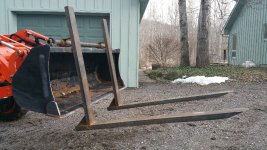 These have taken a serious beating but can handle more than the lift capacity of my tractor. Plus they are light so don't rob much from the lifting capacity either. Well till you consider you're lifting in front of the bucket which is a limit in itself.
That became my next problem as I wanted to lift more so I made a pin-on frame to replace the bucket that the forks can attach to. So now I can either use the forks on the bucket (quick on/off) or for more lifting power I pin-off the bucket and pin on the frame for the forks. Btw after taking the bucket on and off a number of times I've realised its easy and doesn't take more than a couple min to do. (Keep in mind a smaller tractor means the bucket itself isn't crazy heavy so I can move it by hand. makes pinning it back on easy.)
E.