/ How soon is soon enough for Super UDT2 in Front Axle ?
#1

Joined

May 15, 2020
Messages

307
Location
Tractor

Kubota L3560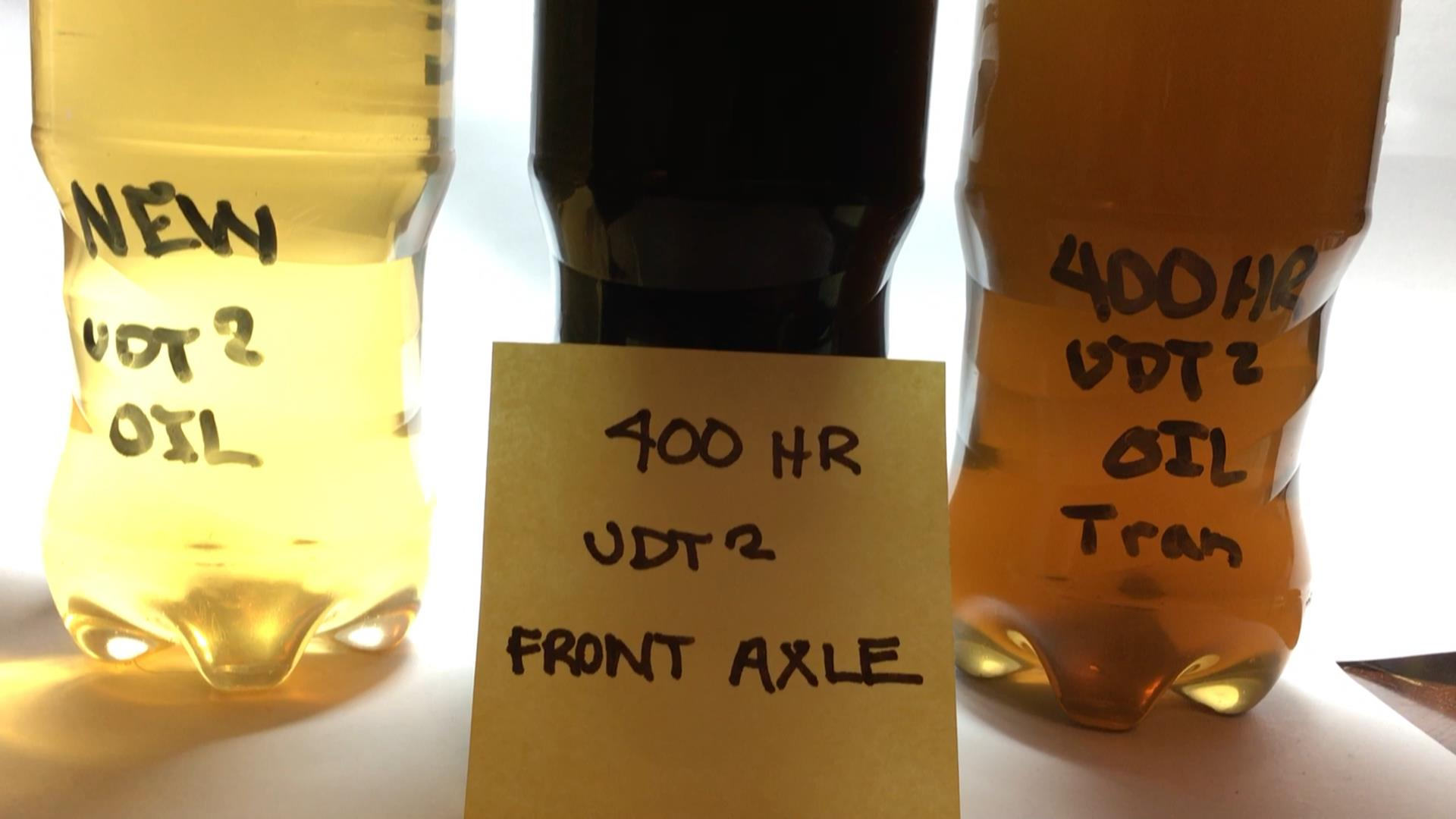 I was shocked ...
L3560, 14 months old. 400 hours all on my watch, and first change of the hydraulic and front axle oil.
The 3 containers are old Pepsi plastic containers so there is no difference in the clarity of the plastic. I backlit top down above the containers with a sheet of white paper behind the bottles to show the difference in the color of the oil. I caught the oil as it poured out of the front end, and the transmission - before it hit anything else (old used oil catch containers).
The results are amazing, as are the fragments of metal and silicon sealing materials stuck in the hydraulic magnet of the ingress side of the hydraulic filters.
A picture tells a thousand words here.
I was shocked to see Bronze/Brass material floating in the front axel oil as it was drained. It was as if someone took powdered metal filings and dumped them into the oil.
There is nothing more disturbing than to see this kind of wear internally in the front axle on a 1 year old Grand L 3560 with 400 hours used around our property. We use the front loader (805) for lifting mostly IBC totes for firewood for our home, and lifting logs to cut down into rounds so we can split them into firewood.
We have also done some excavation work on a driveway of about 150ft by 20ft, removing about 60 ton of material and placing it in another area in the yard for building the barn on. I can't believe that kind of wear is from that use and weight on the front end. If it is, then we may need to do something else over using the tractor for what it's intended to be used for?
We just started mowing this summer, and had only used the PTO for a post hole attachment previous to this. The Hydro Fluid looks somewhat beat up, I suppose I would feel that way too if I were stuck holding and gripping and lifting stuff all day for 14 months!
Yes we have a grapple that we use about 60% of the time for firewood prep, but other than that it's just driving and carrying firewood for our 1800sq ft home. We also burn oil so we are not dedicating that 1800sq ft to all wood burning.
Maybe I'm just a little paranoid. What are your thoughts?
Its a Mad Mad Homestead!
Last edited: