So the factory GM hitch on my 06' 2500HD was showing signs of wear. The pin hole was starting to wallow. Replaced it with a class V Draw Tite from Etrailer.com, as well as a new receiver from Fastway.
It pulls a lot nicer now.
No idea what the class was on the factory set up, I used a 10k Buyers Products from TSC with it, I sold that on FB.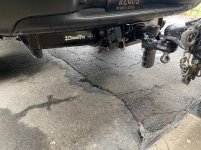 Definitely won't have to worry about the hitch being the weak link now!