Joined

Dec 1, 2011
Messages

174
Location
Tractor

Kubota Grand L3130
I have a Grand L 3130 Kubota with FEL. I am not buying a trailer any time soon, but always watching the market places for sales and private sales. If I find a deal, I want to know what I need. It's no deal if it won't do what I need it to.
My tractor is 3,200 lbs ( not sure if this includes FEL). I have recently added some weight to my box blade and believe it comes in at around 1,000 lbs.
Typically I expect if I take it off property it will be the tractor, FEL, box blade and a 5' Brush hog ( planing to get a EA brand bush hog at 665 lbs). So ballpark weight total of 4,750 ( assuming FEL is part of the 3,200 of tractor)
What length trailer and what axels should I be looking for? Will one axle with brakes be enough? Or must have both?
Thanks for any feedback! Y'all are typically informative! That's great for newbys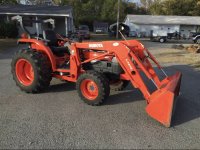 !