Joined

May 26, 2003
Messages

22,859
Location
Tractor

Several, all used and abused.
Thanks Randy. The place where the damage happened said that they had high winds, but hasn't replied to any of my questions. I asked another friend in the area, and she said that they winds where not very bad at their place. I looked online to see what was reported and only saw the winds in the mid 20's.
Regardless of the wind speed, the framing on the wall has some horrible flaws. One of the reasons that I haven't heard back from them might be that I said that it might have been a blessing that it collapsed now, and not later on when it was all done and people where inside there.
Here are a few more pictures that I found on her FB page.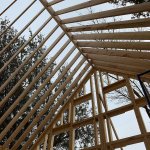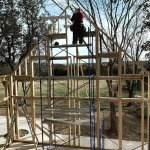 I think this last picture shows the main issue. The studs only go up 8 feet and then they started framing again on top of the double top plates. There isn't any strength there to keep the wall standing up straight and it just folded in on itself.