/ any toro groundsmaster fans on here?
#971
Joined

Jul 21, 2021
Messages

5
Tractor

Toro 30788 Diesel
Have 3 345's and one PTO had some play and wobble so replacing the bearings. The ones we took out have a groove in the side I assume for the grease, the new ones I ordered which I ordered via part number from the part diagram don't have the groove.

Anyone come across this?
The issue here is Chinese made replacement parts. I have fixed enough things in my life to know that they can get you by and getting any NOS for these Toro's is a nightmare. So, that I see here is a potentially simple issue that could be fixed with some machine work if you wanted to. If I am assuming correctly, because I need to do the very same things and have looked at these same parts for my 322-D, is that this bearing has the grove in the pressed in side for a snap ring. The replacement does not have this grove and relies on the locking collar alone. The bearing surface I would imagine is not on that outside machined portion and should be located internally on that bearing around where I have circled in red on your image... so the use of grease here (Reference grease zirk #39 on diagram) to me is a little weird. But, if I am wrong and it is for grease then again a little machine work to make a groove would be possible.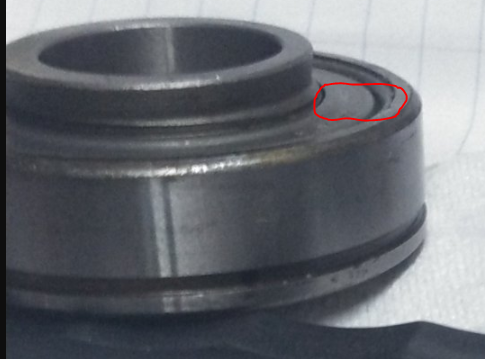 sible.