Joined

May 26, 2003
Messages

22,859
Location
Tractor

Several, all used and abused.
I've been replacing my driveway area lights with these LED lights from Amazon. They work really good with a very clear light that we really like. I paid $129 for them and the link is $10 more. I'm guessing that Amazon is adjusting the price to get a little more out of me if I buy another one right away.
LEDMO LED Parking Lot Light 2W - Waterproof IP65 LED Shoebox Area Light with Photocell - 5K 6W Equivalent - Knuckle Slipfitter Mount - 26 LM - - Amazon.com
The back of our yard gets a lot of action with wild hogs, coyotes, armadillos, racoons, deer and who knows what else. My dogs go crazy back there at night and when we go look with flashlights, we sometimes see these animals, but usually don't. My wife wanted a big area light out there for her piece of mind, so everything else I've been working on was put on hold until I got this done.
I bought a 20ft pole and drilled the top to run direct bury 14/2 through the pole to the light, and have grey PVC conduit up the pole.
I used a Forstner bit for the bigger hole, then a half inch auger bit for the rest of the way through.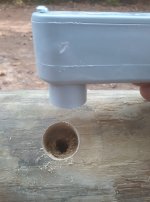 I attached about 8 feet of conduit to the pole and ran my wire through the conduit and connected the light before installing the pole. One of the challenges to this style of light is holding the light in position while connecting the wires. It takes two hands to install wire nuts, so I had to tie the light to the pole so it hung in position. Then I slid it on, and bolted it to the mounting bracket.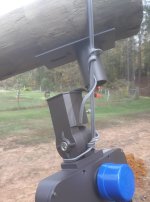 The hay spears on my backhoe work great for picking stuff up!!!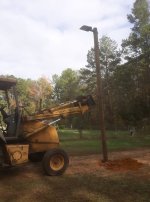 I mixed 4 sacks of concrete to hold it in place and I will leave the supports there all week. We might get some thunder storms this week, and there is no rush to remove the supports. Usually I just pour the concrete into the hole dry and add water, but there is more strength to the concrete if you mix it properly, and I wanted the most strength that I could get to hold it in place.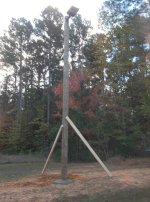 My wife and I went to our deer stand afterwards and this is what it looked like when we walked back to the house. We are very pleased with the results!!!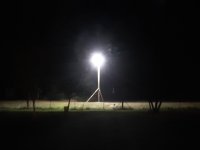 I haven't finished burying the wire. I dug it under the fence and poured concrete over it there so the dogs wont dig it up, but for now, the wire is just laying on top of the ground and I'll do a little at a time. Because of all my water lines in the yard for my gardens, digging the trench with a shovel is my only option.