/ Finally got the new grapple mounted...
#1

Joined

Mar 31, 2005
Messages

2,838
Location
Tractor

1993 Power Trac 1430 w/Kubota diesel engine
I have the T-8 QA swapped over, mounted and plumbed in. (Still need to run the PTO hoses up onto the loader arms.) I went to the hydraulics store in Knoxville this morning and stocked up on the needed Faster male hose connections. Based on a great suggestion here, I set the Aux/QA circuit up with two females, which will stay clean because something is always plugged in, and am putting two males on each attachment. Two attachments down, so far, one more with a hydraulic cylinder (snow/dirt blade) yet to go...
So, here's the obligatory pictures of the EA 50" Wicked Grapple on the PT-1430.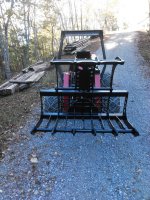 I think this 50" wide Compact size, with its 30" jaw opening is a good fit for this size machine even if this one has about a 60" track.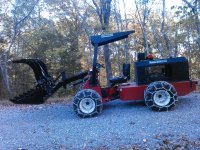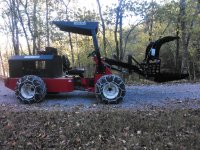 The mounting angle of the QA plate appears to be fine. I can put both the bottom jaws and top lid firmly on ground to press down on green, springy brush to compress it, so I'll be able to get the biggest bite. It will actually tilt just a bit further, so this is not at full tilt travel -- which is a plus. I have a strong curl upward from here. The factory hoses are about 6" - 8" too long for MY machine (my quick connects are farther down the arms, in front of the roll-over bar, not behind it, like on my old PT-425). I'll have to figure out where's the best place to put a loop to take up the slack in each of the hoses, yet keep them away from all these moving parts.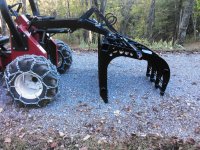 It has plenty of upward curl for moving brush. I don't think this is curled full up, but I honestly don't recall. EDIT: Looking at the position of the curl/tilt cylinder, there's still considerable "curl up" that could be used.
I really didn't work with it, but I had to go grab a bite of brush off the burn pile, because... well just because that's what it does...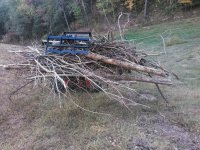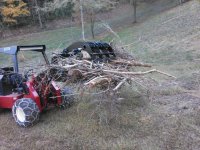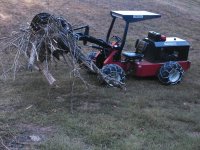 No strain, no mess, no fuss! I think it's going to be a great addition to the tool kit....
Last edited: